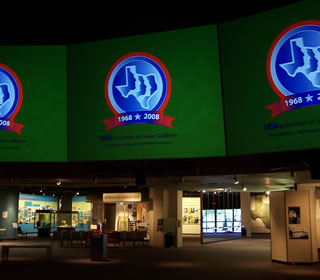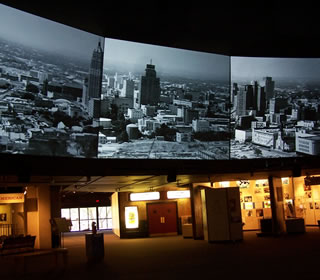 Institute of Texan Cultures dome show
New ITC dome show opens: Texans One and All
By James M. Benavides
Public Affairs Specialist
(April 7, 2009)--To conclude the 40th anniversary of UTSA's Institute of Texan Cultures, the museum will introduce a new dome show, "Texans One and All." The film poses the thematic question, "What do you think of when you think of Texas?" and explores an entertaining series of popular responses ranging from landscapes to heroes to swashbucklers. The film enters the presentation rotation April 7.
---
Today's headlines
Article tools
---
Unique to the ITC, the Dome Show Theater uses 26 projectors and screens to create a one-of-a-kind viewing experience. "Faces and Places of Texas," the original dome show, premiered at HemisFair 1968 and was shown more than 43,000 times. The film was retired in early 2008 for preservation and digitization. Last year, the museum screened "HemisFair 1968: San Antonio's Introduction to the World," using original footage to showcase the event that catapulted San Antonio onto the world stage and the progress the city has made since.
In capturing iconic, eccentric and defining images for "Texans One and All," the ITC production team crisscrossed the state from Palo Duro Canyon to the Texas coast to the Big Thicket in East Texas and to Wild Rose Canyon near Marfa. They visited the Selena statue in Corpus Christi, the Cadillac Farm near Amarillo, the Popeye statue in Crystal City and legendary Texas horned lizard "Old Rip" in Eastland County.
Additionally, the production incorporates images from the ITC's historic photo archive that reach back into Texas history.
The run time for "Texans One and All" is approximately 9.5 minutes. The Institute of Texan Cultures is on the UTSA HemisFair Park Campus, 851 Durango Blvd. Museum hours are 10 a.m.-5 p.m., Tuesday-Saturday; noon-5 p.m., Sunday; closed Monday.
Admission is $8 for adults (ages 12-64); $7 for seniors (ages 65 and up); $6 for children (ages 3-11); free with membership, UTSA or Alamo Colleges identification. For more information, call (210) 458-2300 or visit TexanCultures.com.
The Institute of Texan Cultures tells the stories of Texas' diverse citizens and invites guests to join in the celebration of Texas' multicultural heritage. Established as the Texas State Exhibits Building for HemisFair in 1968 and later designated a campus of The University of Texas at San Antonio, the museum seeks to entertain, inspire and educate those who seek a greater understanding of the influence of multiculturalism in the Lone Star State. Resources for multiple audiences are available at the museum's Web site, TexanCultures.com.