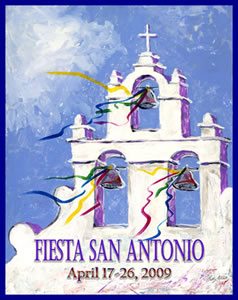 Fiesta parking is available at Downtown Campus
By Jane Wilcox
Director of Business Auxiliary Services
(April 10, 2009)--UTSA will offer public parking at $10 per day during Fiesta San Antonio, April 16-26.
Lots available to the public are:
D1 through D3 under Interstate 35 (from Buena Vista/Dolorosa Street south to El Paso Street)
Durango Loop lot
Cattleman's Square lot (across from the Buena Vista Street Building and adjacent to Pico de Gallo restaurant)
---
Today's headlines
Article tools
---
Vehicles displaying a current UTSA parking permit will be allowed to park at no additional charge in the designated lots. Permit holders are encouraged to park in the Durango Loop or Monterey Building lots during festivities to avoid traffic congestion. The UTSA parking garage requires a garage permit at all times.
Revenues from Fiesta parking will be used to offset the cost of Downtown Campus parking lot lease costs.
For more information, contact UTSA Parking and Transportation Services at parking@utsa.edu or (210) 458-PARK (7275).
------------------------------
Fiesta 2009 public parking at UTSA
Thursday, April 16 -- 4 p.m.-midnight
Friday, April 17 -- noon-midnight *
Saturday, April 18 -- noon-midnight
Sunday, April 19 -- noon-midnight
Monday, April 20 -- 4 p.m.-midnight
Tuesday, April 21 -- 4 p.m.- midnight
Wednesday, April 22 -- 4 p.m.-midnight
Thursday, April 23 -- 4 p.m.-midnight
Friday, April 24 -- 10 a.m.-midnight *
Saturday, April 25 -- noon-midnight
Sunday, April 26 -- noon-midnight
* Cattleman's Square lot will be restricted to UTSA permit parking only until 2 p.m., Friday, April 17 and April 24. The Battle of Flowers Parade on Friday, April 24 requires an earlier starting time for public parking.