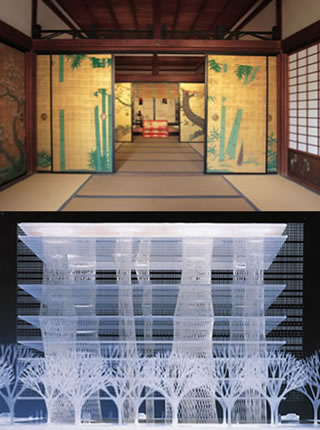 Japanese design style
East Asia Institute hosts Japanese design lecture
By Christi Fish
Public Affairs Specialist
(April 24, 2009)--The UTSA East Asia Institute will host a lecture, "Japanese Sensitivity of Space," by Taeg Nishimoto, UTSA associate dean and professor in the College of Architecture, at 6:30 p.m., Tuesday, April 28 in Humanities and Social Sciences Building Room 2.01.06 on the Main Campus. Nishimoto will discuss Japanese spatial elements and their interrelationships in historical and contemporary contexts. The lecture is free and open to the public.
---
Today's headlines
Article tools
---
Throughout its history, Japan has developed a unique social, cultural and aesthetic sense of space. While this uniqueness is not identifiable as a singular characteristic, there are observable aspects and elements that constitute Japanese awareness in cities, architecture, gardens, painting and literature.
An expert in Japanese architecture, Nishimoto joined UTSA in 2007 as a professor and the associate dean for graduate studies in the College of Architecture. He is the recipient of distinguished architecture awards and honors including the New York AIA Design Award and the Gregory Millard Fellowship from the New York Foundation for the Arts.
His work has been exhibited internationally including New York, Paris and Tokyo, and his PLOT Houses project is a permanent collection at the FRAC Centre in France. Nishimoto's prolific career includes experience in both the private and academic sectors including time with Columbia University, Temple University and numerous universities in Texas, and architectural firms in Amsterdam, Tokyo and New York City. He is a licensed architect in New York and Japan.
For more information on the lecture, contact Mimi Yu, associate director of the East Asia Institute and modern languages lecturer, at (210) 458-4749. Learn more about studying architecture at UTSA at the College of Architecture Web site.