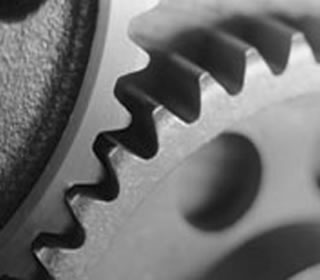 UTSA manufacturing center helps businesses
By Christi Fish
Public Affairs Specialist
(April 24, 2009)--UTSA established the Center for Advanced Manufacturing and Lean Systems (CAMLS) in fall 2007 to strengthen local businesses in the manufacturing, service and defense industries. Since that time, the center has become a symbol of hope for businesses ravaged by an unmerciful economy. Those seeking to do more with what they have are turning to the center for help, and executives are discovering that solutions are available for businesses willing to embrace change.
---
Today's headlines
Article tools
---
"Here at our center, we show businesses how to improve their internal processes," said F. Frank Chen, director of CAMLS and UTSA Lutcher Brown Distinguished Chair in Advanced Manufacturing. "When a business seeks help from us, we often need to quickly understand its situation and challenges by asking its executives, 'What are your current key processes? How do you perform these processes? Why do you choose to perform these processes in this way?' Then, we work with the company to improve its manufacturing and operational processes for strengthened competitiveness and growth."
The CHISM Company, a San Antonio-based awning business, best exemplifies the center's approach. When a Chism Company official contacted Chen in late 2007, the family-owned business leader was saturated in orders. Executives believed the company's internal processes, resulting in a one-month turnaround for each order, precluded it from accepting additional business. So, Chism began to look for an external consultant to help it become a more efficient manufacturer.
"We reviewed and interviewed several providers in companywide lean and flexible manufacturing, robotics and radio frequency identification," said Roy Chism, the company's president. "We found our path and our previous and ongoing technology initiatives meshed best with UTSA's center. It is working with remarkable flexibility to meet our needs, and since our partnership began just over a year ago, we have noticed significant operational and development success."
"Working with The Chism Company has been a win-win situation," said Chen. "Because they are a family-owned business with a strong vision, its executives are quick to implement our suggestions and provide us with feedback about those changes. This momentum has allowed us to fine-tune the company's internal processes in a relatively short period of time, giving us the opportunity to show what lean tools can do for a business despite the poor economy."
After just five months, UTSA engineers redesigned Chism's shop floor and significantly improved internal processes. The changes improved the quality of Chism products and reduced its overall production costs. Notably, the project resulted in reducing the company's order fulfillment time from one month to less than a week, improving employee morale, participation and productivity. And, of course, those improvements increased bottom-line profits.
For more information on the UTSA Center for Advanced Manufacturing and Lean Systems, contact F. Frank Chen at (210) 458-5382. To learn about The Chism Company and its products, contact Roy Chism at (210) 824-6315.