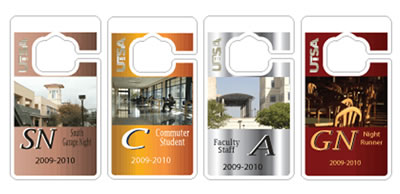 Avoid lines: Buy new UTSA parking permits now
By Jane Wilcox
Director of Business Auxiliary Services
(April 11, 2009)--UTSA parking permits for the 2009-2010 academic year are now on sale through the ASAP online information system.
---
Today's headlines
Article tools
---
Students who are registered for fall classes can purchase permits by MasterCard, Discover, or American Express credit card, e-check, or students may include the permit purchase cost with their tuition and fees.
Faculty and staff can purchase their permits by MasterCard, Discover or American Express credit card, e-check or may opt to use payroll deduction on either a pre-tax or post-tax basis. For payroll deduction, the FY2010 permit cost is divided into monthly payroll deductions rather than from a single paycheck and begins in October 2009. Deductions for permit purchases will continue until the full price of the permit is paid or until the permit is returned.
Student garage permits continue to be in high demand. Students who currently have garage permits have until May 29, 2009, to renew their garage permit for next year. After that date, student garage permits will be offered to those on the waiting list.
Permits purchased by July 31 will be mailed beginning Aug. 1 to the address each applicant indicates on the permit application.
For permit type and rate information, visit the UTSA Parking and Transportation Services Web site, e-mail parking@utsa.edu or call (210) 458-PARK (7275).