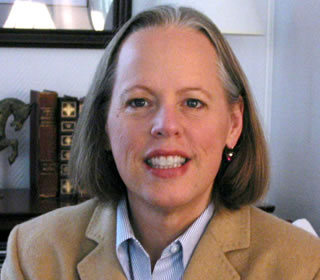 Vivyan Adair
UTSA English department hosts Vivyan Adair April 7
By Kris Rodriguez
Public Affairs Specialist
(April 6, 2009)--The UTSA Department of English welcomes Vivyan Adair, associate professor of women's studies at Hamilton College in Clinton, N.Y., for a presentation, "The Missing Story of Ourselves: Women, Poverty and the Politics of Feminist Representation," at 4 p.m., Tuesday, April 7 in the University Center Harris Room (2.212) on the UTSA Main Campus.
---
Today's headlines
Article tools
---
In addition to her presentation, Adair's ACCESS Project national touring photo exhibit, featuring welfare eligible, single parents changing their way through the pathway of higher education, will be on display April 1-30 in the University Center lounge, across from the bookstore.
Adair's presentation argues against the preliminary exploration of classic and contemporary debates in women's studies concerning the utility and validity of the disciplines foundation that "the personal is political." Drawing from both current theory and the lives of students contributing to the exhibit, Adair delineates and analyzes the degree to which personal stories of identity and experience fulfill the promise by allowing the negotiation of power structures and exposing and reframing dominant narratives which have led to the marginalization of intergenerationally, poor, welfare-eligible and single mothers.
The ACCESS Project is a demonstration educational, social service and career program that assists profoundly low-income parents in central New York in their efforts to move from welfare and low-wage work to meaningful and secure career employment through the pathway of higher education. The program supports the increasingly at-risk population through an intensive and fully supported introduction to liberal arts education, coupled with comprehensive social service, family and career support.
Adair is director of the ACCESS Project at Hamilton College and the Elihu Root Endowed Peace Fund Associate Professor. She wrote the book "From Good Ma to Welfare Queen: A Genealogy of the Poor Woman in American Literature, Photography and Culture" and co-edited the book "Reclaiming Class: Women, Poverty and the Promise of Higher Education in America." Additionally, Adair has written 18 book chapters and articles in refereed journals including the Harvard Educational Review. In 2004, she was named the Council for Advancement and Support of Education (CASE) and Carnegie Foundation's New York State Professor of the Year.
For more information, contact Joycelyn Moody, Sue E. Denman Distinguished Chair in American Literature, at (210) 458-6857.