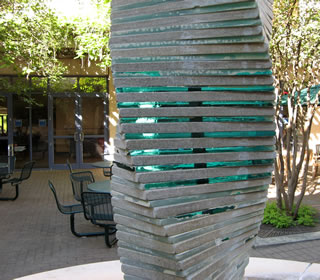 University Center fountain sculpture, UTSA Main Campus
Water conservation, restriction plan begins
By Victoria O'Connor
Communications and Customer Relations Representative, Facilities Business Operations
(April 27, 2009)--In support of water conservation and stage one water restrictions, UTSA Office of Facilities Business Operations staff shut down Main Campus fountains April 20 at Sombrilla Plaza, the University Center and the Biosciences Building. Facilities staff will utilize down time to clean and repair the fountains. Cleaning is expected to be completed April 30.
---
Today's headlines
Article tools
---
Sigma Pi fraternity members volunteered to help clean the sculptural centerpiece of the University Center fountain in the courtyard adjacent to Starbucks; this is part of the group's Altruistic Campus Experience project. Sigma Pi members also held a luncheon for the maintenance workers. Sigma Pi recently was named most outstanding registered student organization at the University Life Awards.
All Main Campus fountains will remain turned off until the San Antonio Water System (SAWS) has lifted restrictions. According to SAWS, the agency that regulates water usage for the City of San Antonio, stage one water restrictions go into effect when the Edwards Aquifer goes below 660 feet above sea level.
In support of water conservation and environmental stewardship, UTSA implemented these measures:
UTSA campuses (Main, Downtown and HemisFair Park) will be restricted to watering only on Mondays from noon to 10:00 a.m. and 8:00 p.m.-midnight.
Athletics and sports fields are considered special-use areas and additional watering day variances are requested from SAWS.
Aesthetic water fountains supplied only by potable water will be turned off. Depending on the water volume required, a fountain may be drained during the duration of the restriction or remain filled with recirculating water used to maintain fountain pumps and equipment.
Facilities business operations staff members continually monitor automatic irrigation systems for proper operation and installs landscaping that supports water conservation and protects natural resources.
UTSA community members are encouraged to follow water conservation practices and monitor drought information at the SAWS Web site. Further restrictions may occur if the aquifer water level continues to fall.
For more information or to make suggestions, contact Facilities Work Control at (210) 458-4262.