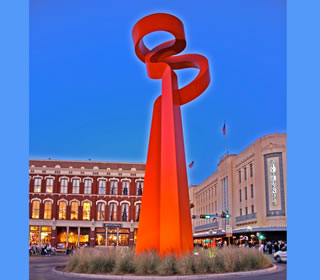 "Sebastian, Torch of Friendship," photograph by Ricardo Romo
UTSA, S.A. Chamber present group art exhibit
By Tim Brownlee
Assistant Director of Public Affairs
(May 21, 2009)--The Greater San Antonio Chamber of Commerce and The University of Texas at San Antonio will host a reception at the opening of two art exhibits. Free and open to the public, the event is at the chamber offices, 603 E. Commerce St., from 5:30 to 7:30 p.m., Thursday, May 21.
---
Today's headlines
Article tools
---
The first exhibit features photographs by UTSA President Ricardo Romo and sculptures by James Hetherington. The Romo photographs will be for sale to benefit the UTSA-Fox Tech Scholarship Fund. The second exhibit showcases work by UTSA students.
>> View a video invitation to the reception.
Romo's photographs have been exhibited at numerous Texas galleries. Hetherington has participated in solo and group exhibitions across Texas and New Mexico. His commissioned murals and sculptures are on display as public art in Texas (Corpus Christi and San Antonio) and in California (Oakland, San Francisco and Berkeley). The Romo-Hetherington exhibition was curated by Arturo Almeida, UTSA Art Collection curator.
Curated by Edward Hayes Jr. '09, assistant to the curator of the UTSA Art Collection, the student exhibition features paintings, photographs and mixed-media pieces by Angel Axioma Alcala III, Esteban Delgado, Carlos Donjuan, Bora Lee, Lupe Mendoza, Juan de Dios Mora, Aaron Muñoz, Gissett S. Padilla, Erin Stafford and Cornelia White Swann. Hayes received his UTSA M.F.A. degree this month.
For more information, contact Karen Evans, Greater San Antonio Chamber of Commerce, at (210) 229-2127.