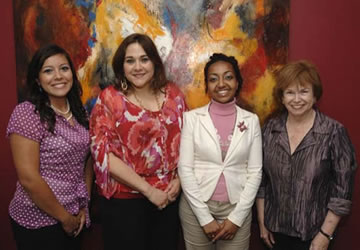 From left are students Serina Contreras, Sonya Cardenas and Rahwa Neguse
with Harriett Romo, founding director of UTSA's Bank of America CAPRI.
(Photo by Mark McClendon)
Three receive Bank of America scholarships
By Lynn Gosnell
Special Projects Writer
(May 6, 2009)--Three UTSA students studying to enter or advance in child development careers have been awarded scholarships from UTSA funded by the Bank of America Charitable Foundation. The Bank of America Endowed Scholarship in Child Development Studies for academic year 2009-2010 carries a financial award of $13,000 for each student. This is the first year the scholarships have been awarded.
---
Today's headlines
Article tools
---
The recipients are Sonya Cardenas, an experienced early childhood teacher specialist; Rahwa Tesfai Neguse, a young AmeriCorps member working on a local children's health initiative; and Serina Contreras, an undergraduate volunteer at the Jose Cardenas Early Childhood Center in the Edgewood Independent School District.
"All three students had excellent academic records and demonstrated leadership and commitment to the community. They are exemplary of the type of scholars we want to support," said Harriett Romo, founder and director of the Bank of America Child and Adolescent Policy Research Institute (CAPRI).
Sonya Cardenas, a mother of three who works as an early childhood teacher specialist in SAISD, earned an undergraduate degree at Our Lady of the Lake University and graduate degrees in education from UTSA. The award will support her pursuit of another graduate degree in school administration. As a teacher specialist, Cardenas trains and supports pre-K teachers, parents, paraprofessionals and administrators at all campuses, including Navarro Early Childhood Center.
Junior Serina Contreras is studying to be a special education teacher. She works part-time at the Jose Cardenas Child Development Center. According to one nominator, Contreras is a "child magnet" at the center, sensitively leading numerous classroom and ex-curricular activities.
Graduate student Rahwa Tesfai Neguse is studying public administration while working with Making Connections-San Antonio, an initiative of the Annie E. Casey Foundation to strengthen West Side families. She works closely with CHAPSS (Children Are Healthy and Prepared to Succeed) to promote access to early-education enhancement, access to affordable health care, and interventions that support academic performance and overall healthy development.
CAPRI was founded in 2004 by Harriett Romo, UTSA professor of sociology, in order to develop research projects and educational programs that help children and adolescents from low-income, mostly Latino families reach their full potential.
In 2007, the Bank of America Foundation contributed $1 million to UTSA to support early childhood development in the city. In honor of this generous support, the research center was renamed the Bank of America Child and Adolescent Policy Research Institute (CAPRI).
The institute also provides valuable experience in applied research for UTSA graduate students and faculty. Research topics pursued by affiliated faculty and students include obesity prevention, infant cognition and language development, school readiness and dropouts, early literacy, juvenile justice and child abuse prevention.