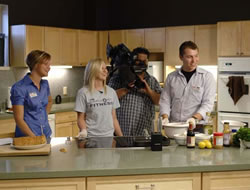 UTSA demonstration kitchen
(Photos by Mark McClendon)
View 'S.A. Living' video of UTSA demo kitchen
By Omar Hernandez
Public Affairs Specialist
(May 12, 2009)--UTSA junior education major Kristen Bird and junior kinesiology major Steven Venegas are full-time students, but one night a week in the UTSA demonstration kitchen they teach their classmates how to live right by eating right. They recently gave a cooking demonstration for WOAI-TV's "San Antonio Living," which aired Monday, May 11.
---
Today's headlines
Article tools
---
>> View the WOAI-TV "San Antonio Living" segment on the UTSA demonstration kitchen.
The taping was more than a month ago but the folks at "San Antonio Living" were so much in awe of the demonstration kitchen as well as Venegas and Bird, that they decided to hold the footage for the ratings period known as Sweeps Month.
"When I walked into the Recreation Center and the demonstration kitchen, it made me wish I had such a wonderful facility available when I was in school," said Laura Breeden, "San Antonio Living" producer. "I was really impressed with how comfortable Kris and Steven were in the kitchen, especially with our lights and camera in their faces. They were naturals."
In the Recreation and Wellness Center on the Main Campus, the UTSA demo kitchen is one of only two in the nation on a college campus and is fully equipped with oven, refrigerator, sink and assorted cookware. Bird and Venegas take turns guiding as many as 20 students through recipes that are both healthy and affordable.
The Recreation and Wellness Center contracts registered dietitian Annie Bell to provide nutrition information during the classes, but instruction is led completely by Bird and Venegas.
There is plenty of Q&A time, and the classes are free to UTSA students, faculty and staff. For more information on upcoming demo kitchen classes, visit the UTSA Campus Recreation Web site or call (210) 458-7575.