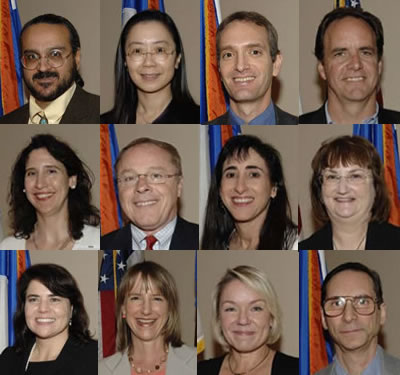 Top row (from left): Ben Olguin, Jianwei Niu, Ron Sweet, Karl Klose
Second row: Anne-Marie Nuñez, John Silantien, Ann Eisenberg, Roxanne Henkin
Bottom row: Cheryl Linthicum, Shelley Roff, Deborah Wagner, Steven Robbins
(Photos by Mark McClendon)
Twelve honored at Faculty Honors Convocation
By Lynn Gosnell
Special Projects Writer
(May 4, 2009)--UTSA President Ricardo Romo and Provost John Frederick hosted the Faculty Honors Convocation April 30 in the University Center on the Main Campus. The convocation recognizes recipients of teaching, research and service awards and acknowledges recent retirees.
---
Today's headlines
Article tools
---
Eleven UTSA faculty members were recognized with the President's Distinguished Achievement Awards and one faculty member was honored with the Chancellor's Council Outstanding Teaching Award. Following are the winners and descriptions of their achievements.
Associate Professor Ben Olguín received the President's Distinguished Achievement Award for Teaching Excellence.
An associate professor in the Department of English since 1997, Ben Olguín has taught more than 50 graduate and undergraduate courses, from core curriculum courses with large enrollments to small seminars. He draws stellar evaluations from English majors and non-majors alike.
In these evaluations, students routinely acknowledge that Olguín is "one of the hardest professors" they have ever had, yet "one of the best professors" they have encountered.
"What I really liked is that the instructor got us to open our minds and to think," wrote one student evaluator.
His rigorous academic standards, creativity and accessibility have successfully prepared many students for graduate study. Olguín dedicates substantial time and effort to scholarship and fellowship mentoring, excels at curriculum development and service, and was instrumental in developing the Ph.D. program.
He has worked to diversify the English department's curriculum, institutionalizing Latina/o and African American literary studies. He uses innovative approaches, such as multimedia testimonials and service learning, to unlock student brilliance, earning accolades from all quarters.
One graduate student wrote, "... He treats his students like colleagues and encourages us to reach for higher levels of learning and to become experts. He always seems genuinely excited about our work, which is so meaningful."
Assistant Professor Jianwei Niu also received the President's Distinguished Achievement Award for Teaching Excellence.
Jianwei Niu joined the Department of Computer Science as an assistant professor in 2005. Since that time, she has received outstanding teaching evaluations by undergraduate and graduate students alike. Her student evaluations include such superlatives as exceptional, accessible, fantastic and awesome.
Niu has developed three course curricula in software engineering, and in doing so has focused on better preparing students to develop large-scale software systems by exposing them to software engineering principles, methods and tools. In particular, she has created industry-scale projects, which give students hands-on experience applying software engineering theories in practice.
"The lectures were interactive, the class discussions were stimulating," wrote one student. "I learned a lot about how to work with people in groups," said another.
Niu also is enthusiastic about encouraging female and minority students to get involved in cutting-edge software engineering and security analysis research. This effort helps UTSA to retain students and recruit them for graduate school.
Ron Sweet, lecturer II in the College of Business Department of Finance, also received the President's Distinguished Achievement Award for Teaching Excellence.
Since coming to work at UTSA in 1997, Ron Sweet has taught a variety of finance courses including risk management, property-liability insurance, life and health insurance, and securities analysis. In addition to his part-time teaching duties, he works as a vice president of equity investments for USAA; he holds an M.B.A. and numerous professional certifications.
Sweet draws on this real-world experience to make his course work practical and relevant for students. His syllabi are thorough and rigorous, benefitting from his work experience as well as his knowledge of textbook topics. His classes consistently draw large enrollments and stellar evaluations from undergraduate and graduate students alike.
One student wrote, "I have never seen a professor so willing to go out of his way -- on his own time -- to provide help to students."
Sweet's knowledge of both the theory and practice of finance, and his ability to engage the students both in the coursework as well as their intellectual curiosity, have made a real difference in students' lives.
Professor Karl Klose received the President's Distinguished Achievement Award for Research Excellence.
Since joining the Department of Biology in 2004, Karl Klose, an expert in bacterial pathogenesis, has had a dramatic impact on university research.
Klose is currently funded by five National Institutes of Health (NIH) grants and contracts, an accomplishment that is unique to UTSA. Well-established within the international research community, Klose serves as founder and director of the South Texas Center for Emerging Infectious Diseases at UTSA. The center includes 19 investigators and their lab and is already one of the most successful centers ever established at UTSA.
Klose has achieved international recognition for his research into cholera, a disease that remains endemic in many areas of the world and for which there is no effective vaccine.
Three of Klose's NIH grants fund the study of Francisella tularensis, a bacteria that causes the disease tularemia. This potentially lethal bacteria has been studied for use as a bioweapon, and Klose and colleagues hope their research will lead to the development of a vaccine.
Klose has worked to attract other researchers in microbiology and immunology to campus. In addition, Klose is training the next generation of scientists by maintaining an active laboratory with Ph.D., master's and undergraduate students performing research. His leadership is truly advancing the research mission of the university.
Assistant Professor Anne-Marie Nuñez also received the President's Distinguished Achievement Award for Research Excellence.
Anne-Marie Nuñez' research focuses on organizational factors that hinder or support the college preparation, transition and retention of diverse students. She joined the Department of Educational Leadership and Policy Studies in 2007.
In just two years at UTSA, she has produced eight articles for publication in peer-reviewed journals (in press), another article that has already been published, a book chapter and eight conference presentations. She also has written a number of funded grants.
Nuñez possesses a rare ability to draw upon multiple methodologies, both quantitative and qualitative, to address various research questions. Much of her research to date has addressed the theoretical perspectives and educational experiences concerning Latino students, first-generation college-going students and migrant students.
In addition to her research activities, Nuñez is an outstanding teacher in both the master's and doctoral programs. She also has been recognized as a faculty fellow by the American Association for Hispanics in Higher Education, an award given to top junior scholars whose work focuses on Hispanic students in higher education.
Professor John Silantien received the President's Distinguished Achievement Award for Performance, Creative Production or other Scholarly Achievement.
John Silantien is a professor of voice and director of choral activities in the Department of Music. Next year will mark his 30th year of teaching at UTSA. His experience and talent provide UTSA students and the wider community with access to superlative musical experiences.
This award honors Silantien's work to advance the performance and knowledge of choral music to the general public, teachers and students alike through a multifaceted Web site project.
Silantien recently completed the initial phase of research and publication of material for the Library of Congress Web site, "American Choral Music, 1870=1923." This treasure trove of American choral music history features sound clips, manuscripts, related art, links and other resources on choral composers. The site represents a collaboration between the Library of Congress and the American Choral Directors Association.
Silantien will continue to work with the project this summer, adding 50 additional works. He also recently authored an article about the project in The Choral Journal -- the premier journal for choral educators.
Associate Professor Ann Eisenberg received the President's Distinguished Achievement Award for Excellence in University Service.
Ann Eisenberg's record of service to UTSA is extensive, exemplary and superlative by any measure. As associate dean of the Honors College, she works with faculty and departments to organize and plan 60-70 honors courses, supervises recruitment efforts that bring 200-250 students into the Honors College, and oversees the selection and distribution of 150 honors scholarships.
Eisenberg advises and mentors many Honors students -- in 2008 she had almost 400 advising sessions with students. She creates the newsletters that keep these students informed, works with Honors students on research projects and writes a "staggering" number of recommendation letters.
One nominee wrote, "Perhaps most noteworthy among the numerous areas of superlative service to UTSA is her commitment to students... She never forgets their names, she knows them as students and as people and she is there for them when they need assistance or just a place to unwind."
Eisenberg works closely with Terry Scholarship and Archer Fellows programs, holding a number of demanding positions that ultimately benefit students. She also serves on major department and university committees, contributing time and effort to help UTSA fulfill its mission and goals.
Professor Roxanne Henkin received the President's Distinguished Achievement Award for Excellence in Community Service.
A professor of literacy education in the Department of Interdisciplinary Learning and Teaching, Henkin's service reaches beyond the local community to national and international audiences.
Responding to San Antonio's need for teachers who can offer children the best literacy instruction possible, Henkin established The San Antonio Writing Project (SAWP) as a local, nonprofit organization. SAWP provides literacy training to selected teachers who attend a summer institute and receive ongoing professional development throughout the school year.
SAWP has also hosted annual conferences, sponsored summer writing camps on San Antonio's West Side and developed the Cuentos Project, in which schools encourage students to interview their families and write their stories or "cuentos."
Henkin also extended the reach of the SAWP and her extensive knowledge about teaching literacy to South Africa, partnering with the University of Limpopo for ongoing training. She spends time each in local elementary schools where she has established professional development sites and where she observes UTSA students working toward their teacher certification.
Henkin also links her literacy expertise with service to the religious community, conducting training for literacy volunteers who work in local school districts and taking UTSA students to the San Antonio Holocaust Museum. Finally, Henkin has a long and active presence in the National Council of Teachers of English, a national literacy organization.
Associate Professor Cheryl Linthicum received the President's Distinguished Achievement Award for Advancing Globalization.
An associate professor of accounting since 1999, Cheryl Linthicum teaches financial accounting and international accounting to both undergraduate and graduate students. She is recognized throughout the United States for her expertise on the implementation of International Financial Reporting Standards (IFRS) by United States domiciled firms.
Linthicum spent the academic year 2005-2006 working on IFRS issues at the Securities and Exchange Commission; she was awarded an unprecedented second SEC fellowship in 2007-2008. She now sits on an advisory committee that is working on including IFRS topics on the Uniform CPA exam. Linthicum also is working to include IFRS into her department's undergraduate curriculum.
The incoming president of the International Accounting Section of the American Accounting Association, Linthicum is in demand as a speaker at conferences and presentations. She served on the International Programs committee that helped obtain international accreditation for the College of Business.
Associate Professor Shelley E. Roff received the President's Distinguished Achievement Award for Core Curriculum Teaching.
Shelley Roff is attracting large numbers of majors and non-majors to her classes in architectural history. One colleague noted that Roff "has an engaging ability to bring the buildings, art and people of the period of her courses to life." Her enthusiasm, passion and innovative teaching is engaging undergraduate students in critical thinking about and appreciation for historic architecture.
Roff is one of few faculty members nationally who is incorporating virtual reality modeling of historical buildings into freshman and sophomore courses.
She brings a background in structural engineering and computer technology into both the undergraduate classroom and Honors program. Research awards have resulted in the initiation of URBIS, a virtual simulation research lab for the study of contemporary and historical urban environments, which she uses in her core curriculum classes.
"Enthusiastic, encouraging, and supportive" are a few of the words her nominators used to describe this influential teacher and mentor.
Roff uses her research and connections in Spain to broaden the educational opportunities of students. A former student wrote that, "She shared the value of her experiences studying abroad and emboldened me to pursue my own interest."
Deborah Wagner, lecturer I, also received the President's Distinguished Achievement Award for Core Curriculum Teaching.
"Every university deserves to have a Professor Wagner." So wrote one former student about the UTSA alumna who is an instructor in the Department of Anthropology.
Her record includes teaching multiple sections of three anthropology courses in the core curriculum. Wagner challenges students to critically evaluate ideas and arguments by encouraging active participation in the classroom. Wagner's courses are constructed to elicit the most from her students as she challenges them to engage the themes central to a particular core curriculum domain.
"She has proven to be one of the most inspiring and influential individuals I have encountered in an academic setting," wrote one student.
Another nominator wrote that Wagner is "a teacher's teacher and a student's teacher. She has that rare combination of a thorough love of her subject, an uncanny ability to connect personally with the overwhelming majority of her students and a flexible pedagogy that allows her to engage students in uncommon depth."
Professor Steven Robbins received the Chancellor's Council Outstanding Teaching Award. The award recognizes distinguished classroom teaching by a senior faculty member.
Steven Robbins, professor of computer science in the College of Sciences, has taught at UTSA since 1975. He conducts research in the areas of parallel architectures and algorithms, distributed computing, visualization and auralization. Robbins has adapted innovative teaching styles to a field evolving over numerous program languages.
During his tenure at UTSA, Robbins has taught an extraordinary range of courses computer science and computer engineering in four disciplines (mathematics, statistics, systems design and computer science). All the while, his focus has been on student success. His teaching experience includes 37 undergraduate courses and 10 graduate courses.
Robbins has had consistently high teaching evaluations, and he has a reputation as a teacher of innovative, challenging and engaging courses. Robbins' interest has always been on educating our students whether it be in the classroom, in organizing curriculum or planning classroom design. He is an outstanding citizen of UTSA, who in fulfilling his responsibilities and has made the department, the college and the university better in every way.