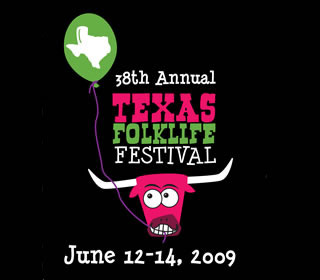 Advance tickets available: Texas Folklife Festival
By James M. Benavides
Public Affairs Specialist
(May 12, 2009)--Advance ticket sales have begun for the Texas Folklife Festival. The popular festival is hosted by the Institute of Texan Cultures June 12-14 on the UTSA HemisFair Park Campus.
---
Today's headlines
Article tools
---
Advance tickets are $10 for adults and $6 for children. Festival tickets are available at all H-E-B stores, Fort Sam Houston, Randolph Air Force Base, Lackland Air Force Base, and the fiscal services offices at the UTSA Main Campus and Downtown Campus.
The Texas Folklife Festival features 150 authentic ethnic foods prepared by 40 cultural groups. Enjoy live entertainment of world music (55 bands) and traditional folk dance (50 dance groups) on 10 stages; more than 40 craft demonstrators engaging visitors about pioneer life; and find artistic creations from more than 65 arts and crafts vendors from across the state.
The festival is supported by approximately 1,400 volunteers and 10,000 participants who come from 64 counties and more than 90 cities across Texas. It is widely regarded as the biggest cultural celebration in Texas.
To purchase advance tickets by phone, call (210) 458-2259. Group rates for 25 or more are available.
------------------------------
The Institute of Texan Cultures is an agency of the Vice President for Community Services at The University of Texas at San Antonio. The mission of the museum is to engage lifelong learners in the understanding and celebration of Texas cultural heritage. Located on the UTSA HemisFair Park Campus in downtown San Antonio, the 182,000-square-foot complex features 65,000 square feet of interactive exhibits and displays that tell the stories of Texans.
The museum develops quality, accessible resources for educators and lifelong learners on topics of cultural heritage and strives to develop a rich and vibrant culture in the arts and humanities that will expand the community's awareness and appreciation of Texas through an engaging series of exhibits, programs, and special events. Resources for multiple audiences are available at the museum's Web site, TexanCultures.com.