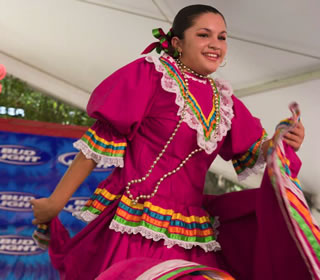 Texas Folklife Festival dancer
Join the fun: Volunteer for Texas Folklife Festival
By James M. Benavides
Public Affairs Specialist
(May 28, 2009)--The 38th annual Texas Folklife Festival is still recruiting volunteers to assist in the three-day celebration of Texas cultural heritage, June 12-14 at the Institute of Texan Cultures on the UTSA HemisFair Park Campus. The festival features music, dance, ethnic foods, artisan demonstrations, family activities and more. So, join up and be part of the fun!
---
Today's headlines
Article tools
---
Volunteer positions are available in a variety of important roles including festival guides, greeters, ticket sellers and traffic controllers, among other positions. Volunteers who work four hours or more will receive a wristband valid for admission all three days of the event.
Volunteer applications and job descriptions for individuals and groups/businesses are available at the Texas Folklife Festival Web site. (Select the "Volunteers" link.) For information on assignments and credentials pick-up, call the Texas Folklife Festival volunteer line at at (210) 458-2216.
-------------------------------
The Institute of Texan Cultures is an agency of the Vice President for Community Services at The University of Texas at San Antonio (UTSA). The mission of the Institute of Texan Cultures is to engage lifelong learners in the understanding and celebration of Texas cultural heritage. Established as the Texas State Exhibits Building for HemisFair in 1968 and later designated as a campus of UTSA, the museum seeks to entertain, inspire and educate those who seek a greater understanding of the influence of multiculturalism in the Lone Star State. Resources for multiple audiences are available at the museum's Web site, TexanCultures.com.