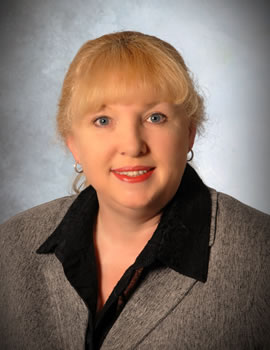 Melanie Lane
Commencement Close-Up: Melanie Lane will serve as substance abuse counselor after graduating this week
By Lynn Gosnell
Special Projects Writer
(May 8, 2009)--Melanie Lane, who graduates from UTSA this week with a masters degree in social work, has two words for people struggling with issues of substance abuse: "Treatment works."
---
Today's headlines
Article tools
---
The experienced substance abuse counselor received a dream job offer before graduation -- to work at San Antonio's new multiservice shelter for the homeless, the Haven for Hope. Lane was hired as the coordinator for the Center for Health Care's Restoration Center, which includes a public sobering, detox and intensive outpatient unit. Haven for Hope partners with Bexar County's Center for Health Care Services to offer this treatment.
Lane will work with homeless substance abusers who come in to the Restoration Center on their own or are brought in by law enforcement for "sobering."
"We try to talk them into making a commitment," says Lane. "We use motivational interviewing. It's based on the philosophy that recovery is a process. The goal is to keep them engaged and coming back until they are ready to buy into a long-term treatment program."
A licensed chemical dependency counselor for 15 years, Lane brings a real and personal passion to her work -- she was once homeless and is in recovery for substance abuse herself.
"My last drink was Jan. 15, 1991. Who would have ever thought that I would have changed my life the way I did?" says Lane.
Much of Lane's work experience took place at Alpha Home Inc., a recovery facility for women with chemical addictions. In fact, Lane worked at Alpha Home while in graduate school. "My job was kind of intense," she says, with a note of understatement.
The Restoration Center is one of the first areas of Haven for Hope to open. By the end of 2009, according to their Web site, the 37-acre Haven for Hope campus will include approximately 998 beds and a courtyard with the capacity to sleep more than 500 additional individuals. More than 70 partner agencies will provide critical services to the homeless.
"This is what I've been working for my whole life," says Lane. "I have a chance to make an impact -- to apply my knowledge to such a worthy cause in the community."
Lane will take the Master's Social Work licensing exam in June.