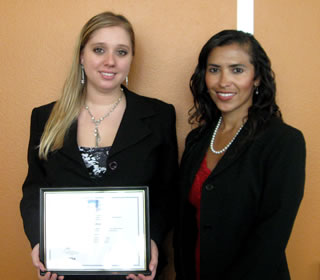 Winner Alaida Olivarez with HACU's Ana Esquivel
Alaida Olivarez receives spring laptop award
By Tim Brownlee
Assistant Director of Public Affairs
(May 18, 2009)--Alaida Olivarez, a May graduate earning a B.S. degree in biology, is the spring 2009 winner of the UTSA Office of Information Technology Laptop Award. The winner is selected from graduates of the Academic Development Program (ADP) in the UTSA's Tomas Rivera Center for Student Success.
---
Today's headlines
Article tools
---
The 11th recipient of the Gateway laptop award, Olivarez is the first in her family to attend college and earn a bachelor's degree. Throughout much of her time at UTSA, she was employed by the scholarship office and participated in the Pre-Pharmacy Society for two years. Olivarez hopes to become a pharmacist, but until that goal is achieved, she plans to become a science teacher.
"What impressed the selection committee the most about Alaida was the perseverance that led to her graduation," said Cynthia Rodriguez, ADP director. "She has had personal ups and downs, but she feels fortunate for all of these experiences because they have made her a stronger person. She has excelled in the classroom."
According to her application essay, Olivarez said that preparation and hard work help her get through the difficult classes and labs. "One never knows what it is to work hard until one works hard," she said. "There is an appreciation of a day's rest when many days have been long hours of work."
A laptop computer and an award certificate were presented to Olivarez by Lee Gildon, COO of the UTSA Office of Information Technology; Ana Esquivel, executive director of development for the Hispanic Association of College and Universities (HACU); and Julius Gribou, UTSA executive vice provost and interim chief information officer. The program is co-sponsored by HACU and UTSA.
Olivarez acknowledged family members and friends who provided support during her time at UTSA. Attending the presentation ceremony were Olivarez' mother, Bridget Vieh; her sister, Jenna Olivarez; her sister's fiancé Chris Ames and a nephew, Jordan Vicente.
A winner is selected each fall and spring semester from ADP students who apply for the award. ADP students are admitted to UTSA on a provisional basis; laptop awardees are selected from participants in the program who have developed their academic standing and will graduate with a minimum 2.50 G.P.A. Applicants must submit an essay detailing their academic and work experience.