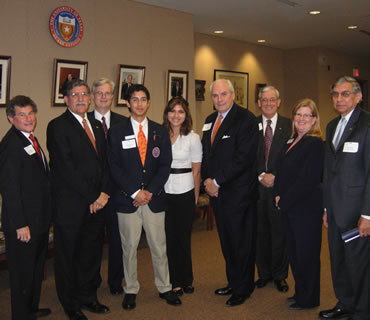 Pictured from left are Jeff Kantor, senior vice president for research
development; President Ricardo Romo; Provost John Frederick; UTSA
student Juan Buensrostro; UTSA student Iliana San Sanchez; UT System
Regent William Eugene "Gene" Powell; Kerry Kennedy, vice president for
business affairs; Gage Paine, vice president for student affairs; and Jude
Valdez, vice president for community services
(Photo by Mark McClendon)
New UT System regent tours UTSA Main Campus
By Tammy Fernandez
Program Coordinator, Office of External Affairs
(May 5, 2009)--Newly appointed University of Texas System Board of Regents member William Eugene "Gene" Powell visited the UTSA Main Campus April 28. President Ricardo Romo hosted a UTSA tour for Powell which highlighted the University Center expansion, Biotechnology, Sciences and Engineering Building, and the new Engineering Building scheduled for completion in fall 2009.
---
Today's headlines
Article tools
---
Raised in Weslaco, Texas, Powell is a native of the Rio Grande Valley. He earned a bachelor's degree in finance at the University of Texas at Austin while on a full athletic scholarship playing football under Coach Darrell K. Royal. He later earned a master's degree in finance from UT Austin.
"It is a great pleasure to have Regent Powell on campus," said Romo. "He was able to see how much UTSA has grown and how much is needed to make UTSA the next national research university."
The governing body of the UT System. the board of regents is composed of nine members appointed by the governor and confirmed by the Senate. Powell was appointed for a six-year term in February by Governor Rick Perry. Powell was confirmed by the Senate April 1 and took the oath of office April 3.