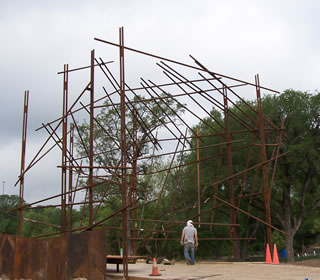 UTSA student design-build project at Raymond Russell Park
County, UTSA architecture students collaborate
(May 12, 2009)--Bexar County Commissioner Kevin Wolff (Precinct 3), the UTSA College of Architecture and construction professionals celebrated May 11 the completion of the second successful design-build project at Raymond Russell Park. UTSA students designed and built a nature trail, observation decks and canopies at the park in North Bexar County. They also stabilized and restored an existing structure on the site.
>> View KABB-TV and KSAT-TV news video of the Raymond Russell Park project.
The unique partnership began in 2005 when UTSA architecture lecturer Diane Hays approached then-Commissioner Lyle Larson about partnering her students with the county to design and build park improvements. Raymond Russell Park was due for renovation and presented the perfect opportunity for students to get hands-on experience while reducing labor costs for the county. The first project, a pavilion and kitchen, was dedicated in 2007.
"As a county commissioner, I may not be able to have a direct influence on our higher education system," Wolff said. "But, pursuing these opportunities for partnering students with real-life experience is definitely one way we can have a positive impact and add even more value to their degrees."
The second project required the purchase of a private homestead that had been washed away completely in the flood of 2002. With the park on a floodplain, the students had to design the structures to allow water to flow under and over with minimal damage. As they worked to clear the land, they discovered slabs, existing wells, landscape walls, animal cages and other debris that forced them to adapt and be spontaneous.
After designing the structures in consultation with an engineer, the students then had to create construction documents and start building the improvements. They typically were on the job site from 7 a.m. to noon, Monday through Friday, and were accountable to the general contractor's project superintendent. Keeping contractors' hours as much as possible, the students made up missed hours on afternoons and weekends -- one student came to the site to pour concrete at 3 a.m. because it was the only time he had between studying and taking finals.
"UTSA's community partnerships create tremendous opportunity for student growth, experience and learning," said Robert Baron, interim dean of the UTSA College of Architecture. "Through this design-build project with Bexar County at Raymond Russell Park, our students have had the opportunity to simultaneously serve the community and develop their professional skills."
The raised observation decks serve as outdoor gathering or classroom spaces, and the large canopies made of recycled steel pipes and wood panels also serve as landmarks for gatherings. The students worked with an accessibility specialist to ensure the decomposed granite nature trail is compliant with the Americans with Disabilities Act. Additionally, the UTSA students created a master plan for the 20-plus acre park, and the next project could be renovation of another pavilion at the 58-year-old county park.
"We look forward to future collaborations of this kind for our students to serve and learn through community engagement," Baron said.