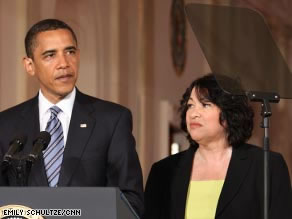 President Barack Obama and Supreme Court nominee Sonia
Sotomayor
Sonia Sotomayor nominated for Supreme Court
By Kris Rodriguez
Public Affairs Specialist
(May 27, 2009)--On Tuesday, President Barack Obama nominated Sonia Sotomayor to serve as justice on the U.S. Supreme Court. If confirmed, Sotomayor would be the third woman to serve on the court and the first Hispanic Supreme Court justice.
---
Today's headlines
Article tools
---
>> View a May 26, 2009, KWEX-TV interview (in Spanish) (Windows Media Player) on the Sotomayor nomination with Richard Gambitta, UTSA associate professor and director of the UTSA Institute of Law and Public Affairs, and Rodolfo Rosales, UTSA associate professor of political science and geography.
Before her nomination, Sotomayor served as an appellate court judge on the 2nd U.S. Circuit Court of Appeals. In 1992, President George H.W. Bush appointed her to serve as a U.S. district court judge. She was appointed to serve on the appellate courts by President Bill Clinton.
Sotomayor received an undergraduate degree from Princeton University and a law degree from Yale Law School.