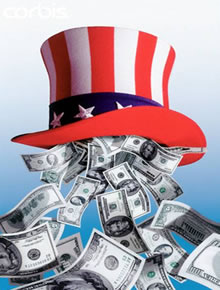 Stimulus funding: UTSA submits 17 proposals
By Christi Fish
Public Affairs Specialist
(May 27, 2009)--This year, President Obama signed the $787 billion American Recovery and Reinvestment Act of 2009 (ARRA), better known as the stimulus bill, in response to America's economic crisis. UTSA researchers have submitted 17 proposals to the National Institutes of Health for stimulus funding consideration.
---
Today's headlines
Article tools
---
Among other items, the legislation allocates $111 billion toward infrastructure and science including approximately $21.5 billion through the National Institutes of Health (NIH) and other federal agencies for scientific research and development projects.
Since the ARRA adoption, scientists across the country have eyed the additional funds to boost their research. By the first major stimulus-funding deadline, UTSA researchers submitted the following 17 proposals to NIH. This summer, funding decisions will be communicated to principal investigators of the awarded proposals.
------------------------------
UTSA's NIH challenge-grant submissions in health and science research
Non-collagenous Matrix Protein Markers for Predicting Bone Fragility, $1,000,000
Research seeks to identify biomarker(s) of bone fragility from both well-defined and unknown non-collagenous proteins (NCPs) that can be used to accurately predict fragility fractures of bone.
An Infected Goat Model for Limb Segmental Defect Reconstruction, $999,133
Research seeks to develop a novel bone graft to improve care for patients requiring reconstruction of large bone defects sustained from diseases, accidents, gunshots or battlefields, improving the patient's life and reducing health care and disability benefit costs.
Health Impacts of Global Change: Research and Education for Minorities, $307,432
Research will increase awareness among future scientists, engineers and teachers of the health impacts of global change and prepare them for leadership roles with a focus on communicating environmental public health messages to diverse audiences.
A Baboon Model for Regeneration of Musculoskeletal Tissue, $1,000,000
Collaborative research involving UTSA's College of Sciences and College of Engineering along with the Southwest National Primate Research Center seeks to establish the baboon as a clinically relevant animal model to develop novel ways to promote regeneration of damaged or defective bone and cartilage tissues using stem cells and artificial scaffold materials.
Type 2 Diabetes: Multi-level and Casual Modeling to Detect Points of Control, $994,150
Research will investigate the relationships between and among factors at four levels of analyses (demographic, contextual, provider and health care organizations, and patient behavior) using multi-level hierarchical modeling and direct acyclic graph modeling to predict the onset of type II diabetes.
Recoverable and Rechargeable Immobilized Organocatalysts, $759,169
Research seeks to develop a new type of immobilized organocatalysts that are self-reparable, rechargeable, easy to recover and easy to reuse to speed up the catalyst screening process.
Development of Bacterial Delivery System for Anticancer Therapy, $1,000,000
Research proposes to develop bacteria that can be genetically engineered to capture and kill breast cancer without causing unintended infections. A successful approach would lead to breakthroughs in eradicating breast cancer with a long-term goal to develop a live-bacterial anticancer strategy against various types of cancer.
Passive Immunology to Reduce Risk of Antimicrobial Resistance of Acinetobacter, $1,000,000
Antimicrobial resistance is on the rise, and multidrug-resistance of Acinetobacter severely limits treatment options. Research seeks to develop a passive local immunotherapy that transfers protective antibodies to the host for disease prevention or treatment in A. baumannii infections and in prevention of resistance emergence.
Localization and Characterization of 11-cis and All-trans Retinyl Ester Hydrolase in the Chicken Retina, $776,610
Research will identify and characterize the structure of retinal membrane proteins involved in photo-transduction and the visual cycle to develop therapeutic agents.
Identification of the Isomerase for the Cone Visual Cycle, $800,249
Research of a novel retinoid cycle will be studied to determine if it regenerates visual chromophore for cones.
The Role of TGFB Induced Protein in Apoptosis of Human Capillary Pericytes, $770,249
Diabetic retinopathy occurs in diabetics' eyes after the loss of the smooth-muscle cells that regulate capillary integrity. Research will investigate the reasons these smooth-muscle cells have been hypothesized to die via apoptosis.
Mobile-SPASe: Low-Cost Mobile Safety, Prevention and Awareness System for Youth, $614,062
UTSA and UTHSCSA researchers will develop and test a new system to enhance the safety of at-risk youth through an application that offers a fast event-reporting phone menu, automatic report processing and awareness broadcasting.
Alkaline Phosphatase: An Early Appearing Biomarker for Pneumonic Tularemia, $957,211
The proposed research will investigate alkaline phosphatase, an early biomarker for Franscisella tularensis, which is a potential bioweapon and causes the disease tularemia.
Serotonergic Modulation of Respiratory Rhythmosgenesis and Chemoreception, $636,744
Research will study the role of neurotransmitter serotonin in the central respiratory chemoreceptor response to hypercapnia, which occurs when there is too much carbon dioxide in the blood. Faulty central chemoreceptors are thought to play a role in Sudden Infant Death Syndrome (SIDS).
Mechanisms of Caffeine Modulation of Respiratory Rhythm and Chemoreception, $636,744
Apnea of prematurity, the absence of breathing, is the most frequently reported respiratory disorder in preemies and has been effectively treated with caffeine therapy for more than 30 years. This research will investigate the precise mechanisms of action of caffeine therapy on the reduction of apnea.
A Novel Drug Delivery Platform for Stents Using Self-Assembled Monolayers, $633,172
Coronary artery disease affects approximately 11 million Americans annually and is currently treated using drug-eluting stents. These stents use polymers to coat and release drugs, and those drugs cause several adverse reactions in the body and could result in heart attack or death. This research proposes to develop a novel nonpolymer-based drug-delivery system using self-assembled monolayers.
Unraveling Natural Variations in Glucocorticoid Resistance by Race/Ethnicity, $953,312
Unraveling natural variations in drug resistance by race/ethnicity is important for reducing childhood cancer health disparities through improved or novel therapies for minority children. This project also will provide insight into the tangled biology of drug resistance.