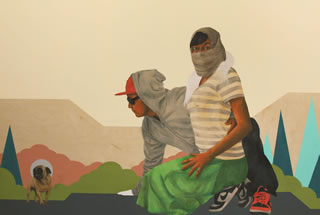 Paintings by Carlos Daniel Donjuan
Top: "Scumset," mixed media on birch panel
Bottom: "Tierra Nueva," mixed media on birch panel
UTSA Satellite Space: 'Tierra Nueva' thru May 24
(May 13, 2009)--The UTSA Department of Art and Art History presents the exhibit "Tierra Nueva" with new work by UTSA M.F.A. student Carlos Daniel Donjuan. On display through May 24 at the UTSA Satellite Space, the exhibition is free and open to the public.
---
Today's headlines
Article tools
---
Donjuan's paintings explore the tension between his Mexican roots and the American culture he has experienced since moving to the United States. Some of the conflicts explored are Catholicism vs. politics, illegal immigrants vs. U.S. citizenship, graffiti vs. the law and academia vs. the streets.
Using techniques mastered through training as a painter and as a graffiti artist, Donjuan creates portraits embedded with clues, symbols and text that reveal a narrative about struggles he has experienced.
The UTSA Satellite Space is in Blue Star Arts Complex Suite 115 at S. Alamo and Probandt streets in the Southtown district. Gallery hours are 6-8 p.m., Thursday; and noon-6 p.m., Friday-Sunday.
For a private showing, contact Connie Swann, Department of Art and Art History, at (210) 458-4391. Contact the gallery at (210) 212-7146.