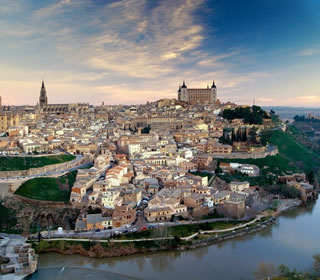 Toledo, Spain
UTSA hosts study abroad in Toledo, Spain
By Kris Rodriguez
Public Affairs Specialist
(May 27, 2009)--The UTSA Department of English and La Universidad de Castilla-La Mancha Toledo Campus in Spain once again will partner to offer an upper-division and graduate-level class on folklore traditions in Spain and Texas May 30-June 20 in Toledo, Spain.
---
Today's headlines
Article tools
---
"Spanish Roots of Chicano Folklore" offers students the opportunity to travel to Spain during the Corpus Christi Fiesta to observe and participate in many of the events and activities. The fiesta, a religious and solemn procession in June, features the historic streets of Toledo adorned with antique pennants, tapestries, awnings, wreaths and lanterns.
During the three-week stay, the students do field work comparing the architecture and cultural parallels between Texas and Spain. Part of the course work allows the students to visit artisans, lace makers, jewelry makers and quilters.
In addition to the fieldwork, the students read four books and write papers, which in the past were presented at various conferences.
"The idea is to look at the trajectory of how culture has changed over the last 500 years in Spain and the United States," said Norma Cantu, UTSA professor of English. "The small group of students benefit from the hands-on, one-on-one experience and are able to connect to their culture and roots."
The cost for the international course is $3,000 for tuition, flight, and room and board. To learn about future courses in Spain, contact Norma Cantu at (210) 458-5134.
For information on financial aid for the study trip, contact the UTSA Office of International Programs at (210) 458-7202.