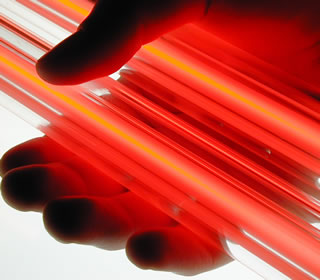 UTSA announces new faculty research funding
By Christi Fish
Public Affairs Specialist
(May 14, 2009)--The UTSA Office of the Vice President for Research announced the funding of nine UTSA faculty research programs to establish innovative, collaborative multidisciplinary research programs in fiscal year 2010. The funding is through the Collaborative Research Seed Grant Program (CRSGP) and the Tenure-track Research Award Competition (TRAC).
---
Today's headlines
Article tools
---
It was announced in February that approximately $242,000 would be available through CRSGP and TRAC to help faculty establish research programs in one or more of UTSA's five strategic areas of excellence: health, security, energy and the environment, human and social development, and sustainability.
"Normally, we expect to receive around 40 to 50 funding proposals," said Jeffrey Kantor, UTSA senior associate vice president for research development. "The submissions are well written, and there is keen attention to detail. Our faculty proposed many unique collaborations."
Funds awarded through CRSGP and TRAC will be disbursed by Sep. 1, 2009, and must be expended by Aug. 31, 2010.
To learn more about the CRSGP and TRAC programs, contact Jim Massaro, UTSA assistant vice president for research development, at (210) 458-6691.
------------------------------
Collaborative Research Seed Grant (CRSGP) recipients
(contingent on FY 2010 funding)
(*Projects will receive $30,000 in funding. **Project will receive $25,000 in funding.)
Evaluation of Borrelicidal Small Molecule for Control of Lyme Disease*
Principal Investigator: Janakiram Seshu, Assistant Professor of Microbiology, College of Sciences
Co-PI: Felix D. Guerrero, Research Physiologist, U.S. Department of Agriculture
Co-PI: Andrew Y. Li, Research Entomologist, U.S. Department of Agriculture
Preliminary Research for the Development of the Lampshade Compton Camera*
Principal Investigator: Bruce Douglas Smith, Associate Professor, Electrical and Computer Engineering, College of Engineering
Co-PI: Thomas H. Prettyman, Senior Scientist, Planetary Science Institute
Lipid-Based Biofuels Using Algal Feedstock Platforms*
Principal Investigator: Kyle E. Murray, Assistant Professor, Geological Sciences, College of Sciences, and Assistant Director for Undergraduate Research Development, Honors College
Co-PI: Frank Healy, Assistant Professor of Biology, Trinity University
Development of Novel Biomedical Probes Incorporating Rare-Earth Nanocrystals**
Principal Imvestigator: Dhiraj K. Sardar, Ashbel Smith Professorship, College of Sciences
Co-PI: Andrew T. Tsin, Professor of Biochemistry and Physiology, College of Sciences
Tenure-Track Research Award Competition (TRAC) recipients
(Projects will receive $22,000 in funding.)
The Evolution of Terrace Farming in Mountainous Environments: Archaeology, Historical Ecology and Ethnography in the Eastern Andes
Principal Investigator: Sonia Alconini, Assistant Professor, Anthropology, College of Liberal and Fine Arts
Synergistic Effects of Chemicals Released from Mountain Cedar and Global Warming on Native Grasses and Plant Community Structure
Principal Investigator: Janis K. Bush, Assistant Professor, Geological Sciences, College of Sciences
Toward a General Understanding of Sediment Deposition on River Floodplains
Principal Investigator: Judith K. Haschenburger, Assistant Professor, Geological Sciences, College of Sciences
Breastfeeding, Poverty, Segregation and Childhood Asthma: A Population-Based Study of Individual- and Contextual-Level Correlates
Principal Investigator: Patrice Johnelle Sparks, Assistant Professor, Demography and Organization Studies, College of Public Policy
How Does Aging Affect Biochemical Neuronal Function?
Principal Investigator: Fidel Santamaria, Assistant Professor of Computation and Neural Systems, College of Sciences