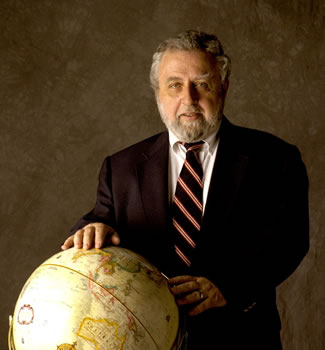 Professor Thomas Bellows
Spotlight: UTSA Professor Thomas Bellows speaks on Taiwanese presidency at Woodrow Wilson International Center for Scholars in Washington, D.C.
By Kris Rodriguez
Public Affairs Specialist
(June 30, 2009)--Thomas Bellows, UTSA professor of political science, was one of only four presenters selected from across the nation to speak recently before an international audience of scholars, government officials and foreign ambassadors at the Woodrow Wilson International Center for Scholars in Washington, D.C.
---
Today's headlines
Article tools
---
Bellows' presentation, "Taiwan and the Global Economic Storm," addressed Taiwanese President Ma Ying-Jeou's time in office since his inauguration in May 2008.
"There was quite a bit of unhappiness with the previous president, partly because of corruption and the economy," said Bellows. "Suddenly this new president comes in and within months it appears the whole world economic system seems to be partially imploding. This president is a very honorable man, who is running up against an economic tsunami."
Bellows says the new president also is trying to assist the Taiwanese business community by creating closer economic ties with China. An improved relationship would allow Taiwan to export more products to China.
His presentation was published by the Woodrow Wilson International Center for Scholars. In 2003, his monograph, "The Republic of China's Legislative Yuan: A Study of Institutional Evolution," was published by the Maryland Series in Contemporary Asian Studies.
Bellows has published extensively on Taiwan and has authored several academic articles on the politics and international relations of Asia. He is editor of the American Journal of Chinese Studies, has lived and conducted research in both Taiwan and Singapore, and received his doctoral degree from Yale University.
The Woodrow Wilson International Center for Scholars, a respected, national memorial to President Wilson, was established by Congress in 1968 and headquartered in Washington, D.C. The nonpartisan institution is supported by public and private funds and engages in the study of national and world affairs. The center establishes and maintains a lively, neutral forum for free and informed dialogue.
The center's mission is to commemorate the ideals and concerns of Woodrow Wilson by providing a link between the world of ideas and the world of policy and fostering research, study, discussion and collaboration among a full spectrum of individuals concerned with policy and scholarship in national and world affairs.