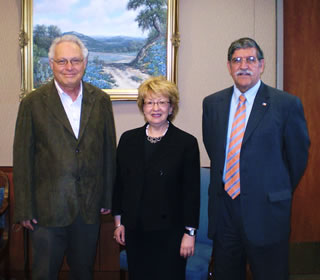 From left are Professor Ely Kozminsky, Professor Rosalind Horowitz
and UTSA President Ricardo Romo
UTSA visiting scholar Ely Kozminsky conducts research on enhancing literacy development
(June 17, 2009)--Ely Kozminsky, professor of cognitive psychology at Ben Gurion University in Beersheba in the Negev, Israel, has chosen to divide his time between the University of Pittsburgh's Learning, Research and Development Center and The University of Texas at San Antonio's College of Education and Human Development during his sabbatical. Ben Gurion University resembles UTSA in that it is about the same age, a relatively new institution, and attracts minority and first-generation college students.
---
Today's headlines
Article tools
---
Kozminsky is being hosted by Rosalind Horowitz, UTSA professor of discourse and literacy studies, who lectured at Ben Gurion University in 2000. They have continued their communication -- and transnational collaboration over many years.
Kozminsky trained as a cognitive psychologist at the University of Colorado at Boulder with Walter Kintsch, one of the world's eminent theoreticians and groundbreaking researchers in cognitive psychology and reading processes. Kozminsky's research in paragraph sequencing and text comprehension was a significant dissertation in the field of text processing. He has continued the study of how to enhance high-level reading comprehension for more than 30 years and the mentoring of many doctoral students.
Kozminsky came to UTSA to work with Horowitz as he designed a book on the development of reading comprehension (in Hebrew) for parents who reside in Israel, many of whom are immigrants and have moved several times across geographic regions. This volume will include the latest experimental research findings in ways that are meaningful and useful for parents to process. The book promises to incorporate an engaging narrative structure and literary works to illustrate its arguments and methods for guiding reading development.
Additionally, he is collaborating with Horowitz on the Border Literacy Project, which examines the role and value of movement across physical borders on the changing fabric of reading --- cognition, motivations and habits -- of adolescent populations with particular attention to teens who cross the U.S.-Mexico border as well as other international borders.
To further explore literacy development, Kozminsky's research explores how categories of graphic organizers, especially variations of concept maps, might assist text processing while reading, and now with Horowitz, how graphic organizers can facilitate high school and college student composing processes while writing. He presented a theoretical discussion of graphic organizers in Horowitz' C&I 5743 Seminar, Reading in the Secondary Schools, at the Downtown Campus, a class designed for improving the teaching of reading.
With graduate students, he also has been researching how new technology products affect literacy development (e.g. e-books read by kindergartners) and how word processors and the Internet environment change the processes of learning and writing.
For more information on these research projects e-mail Ely Kozminsky or Rosalind Horowitz.