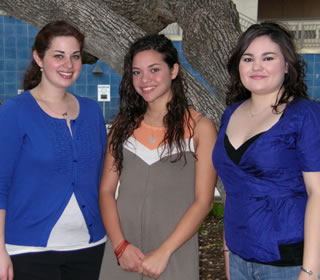 Top photo: From left are UTSA's Gilman scholarship winners for fall
2009: Sharon Teller, UTSA exchange at Keele University, England;
Barbara Secenas, USAC architecture program, Italy; and Rosalinda
Rangel, Education Abroad Network, Fudan University, China
Other photos: UTSA students study around the world
Study abroad programs help UTSA students improve career skills
By Omar Hernandez
Public Affairs Specialist
(June 10, 2009)--Study abroad is usually synonymous with summer and education. While the most popular time to study abroad is summer, study abroad happens year-round. Each year hundreds of students leave the traditional learning environment of the UTSA campuses and embark on an experience that will surely change their lives forever.
---
Today's headlines
Article tools
---
UTSA offers many study abroad opportunities around the globe. There are four types of study abroad programs.
Exchange programs allow students to study at a university with which UTSA has a special agreement. Under an exchange program, students pay normal UTSA tuition and all other costs to the host university.
Affiliated study abroad programs are coordinated and managed by outside organizations and companies. Program costs are set by each program provider and vary with the length of the program, location, and cost of living.
UTSA faculty-led programs offer the opportunity to travel abroad with a faculty member. These programs most often run in the summer and are led and coordinated by the faculty member in charge. Program costs include UTSA tuition and any associated costs.
The UTSA College of Business maintains its own exchange programs. Students are selected by the College of Business but work with the Office of International Programs on all administrative matters. Read more at the College of Business Web site.
The benefits of studying abroad are more than a wonderful trip and memories. The experience can help students land jobs after graduation.
"Research has shown that students with international experience are more employable," said Holly Hill, UTSA assistant director of international programs. "Employers know they develop skills from international exposure. They can easily adapt to different backgrounds and cultures and are more flexible in the work place."
Paying for study abroad is perhaps the most intimidating task for a student. Luckily, UTSA offers scholarships to students interested in studying abroad through the International Education Fund. Students can use regular financial aid to help cover the costs, along with other available resources.
During the 2008-2009 academic year, UTSA was in the top 10 of recipients of the Gilman International Scholarship, which helps students who are traditionally underrepresented in education. Gilman is one of the only national scholarships in study abroad. Other schools on the list include: UCLA, UC Berkeley and UT Austin.
"Our students are the applicants they want to give money to," said Hill.
In fact, scholarship money for the fall 2009 semester has already been awarded. Only three UTSA students applied for the assistance and all three were approved. Barbara Secenas is headed to Italy with $4,500, Sharon Teller will take on the United Kingdom with $5,000 and Rosalinda Rangel will visit China with the maximum scholarship amount of $8,000. Hill urges students to apply before deadlines and to check for basic requirements.
Students must be at least a sophomore at time of departure; students must be in good academic standing with a minimum 2.5 G.P.A. Making the decision to study abroad requires a great deal of planning. Hill suggests planning as much as one year before stepping on the plane.
For more information, contact the UTSA Office of International Programs at (210) 458-7202 or e-mail studyabroad@utsa.edu.