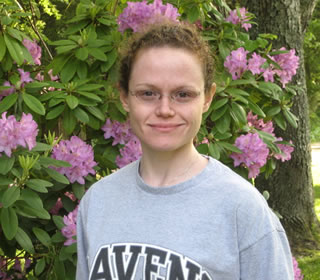 Kelly J. Harris
UTSA Spotlight: Beldon scholarship awarded to English doctoral student Kelly J. Harris
By Lynn Gosnell
Special Projects Writer
(July 21, 2009)--Kelly J. Harris, who received both bachelor's (2006) and master's (2009) degrees at UTSA, is the third recipient of the Louise and Michael Beldon Doctoral Scholarship. The merit-based scholarship is awarded annually to a Texas resident who is entering a doctoral program at UTSA. Past recipients include doctoral students in demography and neurobiology.
The scholarship was created in 2007 by Louise and Michael Beldon, owners of Beldon Enterprises Inc., a third-generation, commercial roofing business founded in San Antonio in 1946.
In recommending Harris for the Beldon Scholarship, Department of English Chair Bridget Drinka lauded Harris' "fundamental intelligence, research, critical thinking and writing skills."
A military veteran who is the first in her family to earn an undergraduate degree, Harris is a passionate advocate of the written word. To Harris, learning to write -- and write well -- is the ultimate kind of empowerment. She plans to teach writing at the university level.
"One of the things I feel most passionately about is showing students that they can write; it is not a skill which is only possessed by the few," Harris wrote in her scholarship application.
"It is my hope that I would be able to show students how to look at not only what is written or said, but also to see the underlying meaning of the words or the author's persuasive intentions," she added.
Initially discouraged from studying English in college, Harris path to pursuing what she really loved has been long and arduous. After a year of college in Tennessee, her home state, she gave up her studies to join the Air Force. Trained as a cardio-pulmonary technician, Harris worked at Wilford Hall Medical Center in San Antonio.
Throughout her six-year stint in the military, Harris' love of language stayed on her mind. "It always came back to the words," Harris said, noting that even learning medical Latin seemed like nourishment.
Harris decided to pick up her undergraduate studies at local community colleges, eventually earning enough credits to transfer to UTSA as "somewhere between a sophomore and junior." The GI Bill helped pay for her undergraduate studies, and it was through her courses in UTSA's English department that the possibility of becoming an English professor began to take shape."
She applied to graduate school at UTSA and was soon accepted -- teaching assistantships allowed her to work closely with senior English faculty. Last year she was also the recipient of the Alan E. Craven Endowed Scholarship. She has worked at the UTSA Writing Center and as a reader-grader, gaining valuable skills and mentoring students in the process.
"I am honored to be the recipient of this scholarship," Harris said. She will begin her doctoral studies this fall.