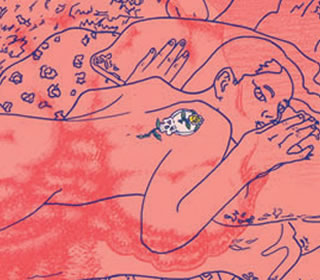 Benito Huerta painting
UTSA Art Gallery hosts Benito Huerta exhibit 'Shock and Awe' July 9-Aug. 14
By Kris Rodriguez
Public Affairs Specialist
(July 7, 2009)--The UTSA Department of Art and Art History will present "Shock and Awe," an exhibition of works by acclaimed Texas artist Benito Huerta from July 9 to Aug. 14 at the UTSA Art Gallery in the Arts Building on the UTSA Main Campus.
The exhibition includes paintings, drawings and prints that are some of the most challenging works produced by Huerta in recent years. In some works, bold compositions, colors and themes demand attention; while in others, subtle drawing and painting seduce through correspondence to the complexity of cultural and aesthetic concerns.
Huerta is known for his dedication to creating works that challenge cultural conventions. He explores multiple legacies, and his work is evidence of the influences in contemporary life that result from conversation among modern aesthetics, intellectual criticism, political realities, popular cultural references, sexuality and the experiences of Latino pluralities.
>> An opening reception, free and open to the public, is 6-8 p.m., Thursday, July 9. Free parking is available in lot 8 during the opening reception. UTSA Art Gallery hours are 11a.m.-2 p.m., Monday-Thursday, and by appointment.
For more information, contact Laura Crist at (210) 458-4391 or John Hooper at (210) 458-4392.