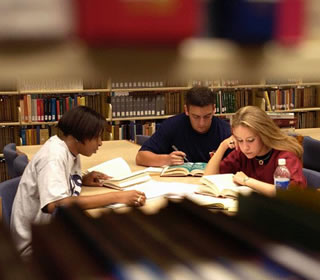 Students in the UTSA Library
(Photo by Mark McClendon)
Race and ethnicity designations to change on some UTSA forms
(July 24, 2009)--UTSA is in the process of making federally mandated changes regarding the designation of race and ethnicity on certain forms. The final guidelines authorize individuals to make multiple selections regarding their racial and ethnic background.
In order to help implement the changes, UTSA's current and future students and employees will be asked to identify or re-identify their race or ethnicity using new categories.
The data of UTSA students and employees is confidential; disclosure is regulated to the extent possible by the federal Family Educational Rights and Privacy Act (FERPA) and state regulations. Patience is appreciated as changes are made to improve the quality of UTSA's data. These changes will help UTSA to better serve students and employees.
Additional information with specific instructions will be sent at a later date.