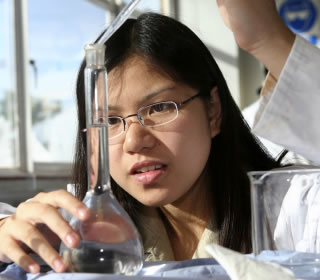 UTSA boosts regional research efforts with science conference
By Amanda Beck
Communications Specialist, College of Sciences
(July 22, 2009)--The UTSA College of Sciences is opening doors to local researchers -- faculty and students alike -- to strengthen the collaborative network within the South Texas region. The college will host the 2009 COS Research Conference at the University Center from 8 a.m. to 5 p.m., Friday, Aug. 7 on the UTSA Main Campus.
The daylong event includes morning and afternoon sessions, separated by a networking lunch. The morning breakout sessions presented by UTSA faculty will cover the topics of biological sciences; physical, chemical and material science; and computer and mathematical science. After lunch, undergraduate and graduate students from UTSA and local universities will present research posters.
In addition to the sessions in the University Center, there will be a laboratory and facility tour. Karl Klose, world-renowned researcher and director of the South Texas Center for Emerging Infectious Diseases, will deliver the keynote address.
"A goal of the conference is to celebrate the work that has already been done, as well as to make connections that will enable UTSA to build and strengthen research and training capabilities in the region," said George Perry, dean of the College of Sciences.
The event is co-sponsored by the Alamo Chapter of Sigma Xi, a professional research society, and the Society for the Advancement of Chicanos and Native Americans in Science.
The $10 fee will be waived if registration is received by July 31. To register or for more information, visit the COS Research Conference Web site or contact event manager Kai Kamaka at (210) 458-6177.