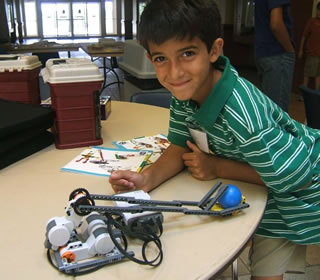 Young students at UTSA robotics camps
Home-schooling mother teams with UTSA to help establish robotics camps
By Christi Fish
Public Affairs Specialist
(July 31, 2009)--When San Antonio mother-of-six Mary Stowers accompanied her children to the FIRST (For Inspiration and Recognition of Science and Technology) regional robotics competition years ago, she noticed something alarming. The competing teams of children from disadvantaged areas had shiny new equipment, but no one had taught them how to use it.
"In the FIRST competition, teams can earn up to 400 points," Stowers said. "But these kids weren't even breaking out of the double-digits. It was difficult to watch." The observation set a fire in Stowers, who began working with local nonprofits to bring robotics enrichment to kids in San Antonio's lowest socioeconomic neighborhoods.
A few years later, the Interactive Technology Experience Center (iTEC) in the UTSA College of Engineering was looking for someone experienced to help organize its first summer robotics camps, a community outreach initiative that would be funded by the AT&T Foundation. By chance, Stowers and iTEC met. With a shared vision, they began planning UTSA's first robotics camps, which would be offered free-of-charge to students who had completed the third through eighth grades.
Shortly after UTSA announced it would offer the first camps in summer 2009, each became half full with 25 enrollees. But, then word spread and demand increased.
This week, UTSA welcomed 72 San Antonio third through sixth graders to the fourth of its five scheduled camps. The camps, which run from 8:30 a.m. to 2 p.m. weekdays, challenge students to build and program robots to complete specific tasks, which become progressively more difficult as the camp progresses.
Over the two-week period, campers will learn to build and program a task bot, a dragster, a shot put, a swimmer and a robot that can follow a black swirled line on the ground. The camp also includes friendly competition each time the students collectively complete their new robots.
To complete assignments, campers work in groups of four. Each group receives access to a LEGO Mindstorms NXT robotics kit, a laptop for programming, and a high school or college-aged mentor. Additionally, Stowers meets with the entire camp multiple times each day to conduct group discussions and help campers with time management.
Stowers delights in the fact that more than 80 percent of the inaugural 350 campers are identifiably "at-risk," based on their location and socioeconomic status.
"Our hope is that by teaching these kids about robots -- about building and programming -- they will go back to school in the fall with a better understanding of basic engineering principles," Stowers said. "That way, if their schools are able to buy them kits and enter them in competitions, one or two kids on each team will already have an understanding of where to begin."
Jeffrey Huvar and Lety Huvar think Stowers and UTSA are onto something. The San Antonio couple, teachers at Earl Warren High School and John Paul Stevens High School, respectively, has traded in a summer vacation to attend all five of UTSA's summer robotics camps with the support of a Research Experience for Teachers (RET) grant awarded to Yufang Jin, UTSA assistant professor of electrical and computer engineering. The Huvars hope to use what they learn at UTSA to strengthen the robotics programs at their schools.
Although UTSA's summer robotics camps have reached capacity and Stowers has a waiting list with nearly 370 names on it, UTSA's iTEC has announced it will hold the camps again next summer.
To receive early e-mail notification of 2010 camp registration, e-mail Moses Thompson, iTEC program manager.