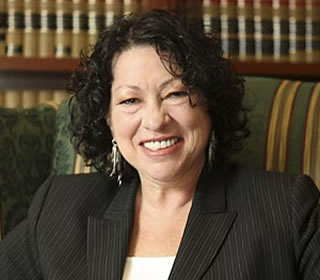 Sonia Sotomayor
UTSA hosts panel discussion on Sonia Sotomayor nomination
By Kris Rodriguez
Public Affairs Specialist
(July 22, 2009)--The UTSA Institute for Law and Public Affairs and the Mexican American Legal Defense and Educational Fund (MALDEF) will host a panel discussion, "Justice Matters: A Discussion on the Nomination of Judge Sonia Sotomayor to the Supreme Court of the United States" from 2:30 to 4 p.m., Thursday, July 23 in the Buena Vista Street Building Aula Canaria (1.328) at the UTSA Downtown Campus.
Presented by Hispanics for a Fair Judiciary (HFJ), the discussion is free and open to the public.
HFJ was formed in April 2005 through the efforts of the Alliance for Justice in order to provide Hispanic leaders across the nation a platform and voice in matters related to the nation's judicial system. The organization consists of Hispanic civil rights leaders as well as Hispanic state and local elected officials.
Scheduled panelists include Rosa Rosales, national president of the League of United Latin American Citizens (LULAC); Linda Chavez-Thompson, executive vice president of the American Federation of Labor and Congress of Industrial Organizations (AFL-CIO); Luis Figueroa, MALDEF legislative staff attorney, state Rep. Trey Martinez Fischer; Norma Cantu, professor of law and education at the University of Texas at Austin; and Rey Valencia, professor at St. Mary's University School of Law.
For more information, contact Richard Gambitta at (210) 458-2990.