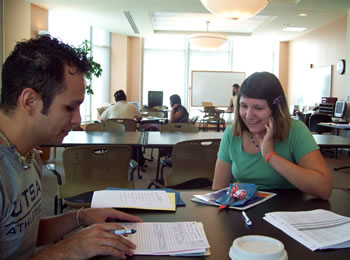 Student Summer Hicks (right) works with her Tomas Rivera Center adviser.
UTSA's Tomas Rivera Center helps freshman acclimate to college
By Omar Hernandez
Public Affairs Specialist
(July 24, 2009)--Access College and Excel (ACE) is a program in the UTSA Tomas Rivera Center for Student Success (TRC) that supports incoming freshman who will take all of their first-year classes at the Downtown Campus. The program is a pathway to retention that includes individual student advising and small learning communities, combined with continual mentoring and guidance.
A scholarship and retention program, ACE focuses on quality not quantity with the approach that smaller is better. The "access" in the program title accurately reflects the group -- the best and brightest graduating seniors from some of San Antonio's lowest performing high schools.
The ACE incoming freshman are students who graduated from inner city high schools including Edison, Fox Tech, Brackenridge, Highlands, Jefferson, Lanier, Kennedy, McCollum, Harlandale, Memorial and Sam Houston. The target population has large groups of minority students from low socioeconomic backgrounds who are typically first-generation college students.
From that target population, TRC staff members recruit students who stand out from their peers. ACE students are required to have a 2.5 or higher high school GPA, a 80-percent attendance record and have been involved in extracurricular activities. In fact, ACE students are more likely to return for their sophomore year and graduate from UTSA than a non ACE student. Sometimes, the challenges for staff are not getting these students involved but rather slowing them down a little.
"Our group is very ambitious," said Dionne Davila, ACE program coordinator. "They want to take the 15 and 18 hours their first semester. We tell them to focus on fewer classes, doing quality work and putting all of their energy in that instead of spreading themselves thin."
Davila said all ACE students are required to attend the UTSA Downtown Campus their first semester. They also take a freshmen seminar to help with time management, studying and test-taking, and where to find the resources they need to be successful. Additionally, the students are assigned to learning communities to help build a network of friends and familiarity throughout their first semester of college
"Our students come from smaller communities; their culture is close knit so they will thrive in that environment," said Davila. "The ACE community is anywhere from 25 to 50 students. They have the entire Tomas Rivera staff at their disposal so the resources they need are readily available."
Davila said some students want the experience of a big campus and many of her students eventually transfer to the Main Campus. But, for those who are not quite ready, the ACE program helps with that transition.
"I had originally wanted to go to the UTSA Main Campus but it was a lot bigger than what I expected, said Summer Hicks, an entering ACE student from Brackenridge High School. "But, the Downtown Campus was a little more comfortable because it was a smaller community. I ran into people that I went to high school with, so I felt a little bit more at home."
Another new ACE student is Elizabeth Ehrlich from Thomas Jefferson High School. She always wanted to go to college, but the fear of the unknown worried her. As the first person in her family to attend college, Ehrlich felt the pressure begin to build. That's when she inquired about the ACE program.
"I love how there are so many options here, and everybody is helping me out," said Ehrlich. "I feel less pressured knowing that someone at UTSA is supporting me, along with my family."
For more information visit the UTSA Tomas Rivera Center for Student Success Web site or call (210) 458-2838.