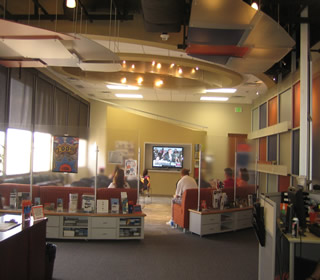 (Photo by Beto Gonzales)
More than 5,000 guests expected this summer at UTSA Visitor Center
By Omar Hernandez
Public Affairs Specialist
(July 3, 2009)--If you happen to notice an influx of visitors on the UTSA Main Campus, here's why. Since May 1, the UTSA Visitor Center has introduced 2,500 potential students and parents to the UTSA experience. The office is expects upwards of 3,000 more students before the fall semester. The Visitor Center sees the extra traffic on campus as an opportunity to make a great first impression.
The UTSA center's main goal is to provide a positive experience for visitors and to answer any questions prospective students and parents have about UTSA. The center staff members conduct tours of the campuses, utilizing their knowledge about every college, department, student service and UTSA event. The tours often are customized for the particular group to enhance the tour experience.
"When parents and students come they have specific goals," says Evelyn Betancourt Martinez, Visitor Center coordinator. "We do our best to figure out what those goals are and make sure we've provided everything to showcase the dynamics of their specific area of interest."
The Visitor Center and the Office of Admissions have dedicated staff that help in the recruiting efforts for UTSA. But, Betancourt says it is important for the UTSA community to realize that everyone should be involved in attracting students.
"If you see a tour on campus -- smile, wave, introduce yourself -- anything like that helps," said Betancourt. "I've been on tours where professors greet the visitors and that is something I've noticed the students and parents really enjoy."
Besides a busy schedule this summer, the Main Campus Visitor Center is adjusting to a new location. The move from the Business Building to the Multidisciplinary Studies Building happened more than a year ago, but this is the first full summer the office is in its new location. Guiding visitors from the parking lot to the center of campus has been the only adjustment, but Betancourt said the new office is bigger and better adapted to receive large groups of people.
Betancourt also is in the process of hiring more student tour guides to help with the large number of visitors they are expecting this summer. To pick up an application, full-time students who would like to be tour guides can stop by the Visitor Center in Multidisciplinary Studies Building Room 2.02.36. Above all, Betancourt wants students who love being a part of the UTSA community.
"If the students are passionate, that message and spirit will convey to parents and prospective students," said Betancourt.
>> For more information visit the UTSA Visitor Center Web site or call (210) 450-5145.