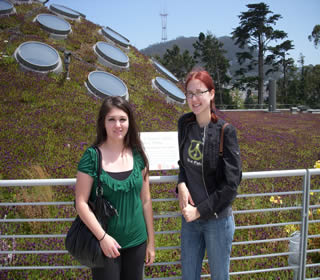 UTSA students Nadia Danial (left) and Emily Pohl at California
Academy of Sciences
(Photo by Mark McClendon)
UTSA student leaders hear first lady at San Francisco conference
By Jennifer Lilly
Assistant Director of Volunteer Services, Inclusion and Community Engagement Center
(July 3, 2009)--Two leaders of the UTSA sponsored student organization VOICES (Volunteer Organization Involving Community Education and Service) attended the National Conference on Volunteering and Service in San Francisco June 22-25 to learn about going green and recruiting members, along with an opening speech by first lady Michelle Obama. Nadia Danial, VOICES president, and Emily Pohl, vice president of programs, attended the conference with organization adviser Jennifer Lilly.
In her speech, Obama unveiled the summer service initiative United We Serve, a call to service by President Obama that encourages community service from now to September 11, 2009. Mrs. Obama said, "The idea is to emphasize for viewers across the country that service is a part of who we are as Americans and to highlight the power of service to make a difference in people's lives."
Othere opening day speakers included Governor Arnold Schwarzenegger, California first lady Maria Shriver, Speaker of the House Nancy Pelosi, rock band Bon Jovi and other leaders in volunteerism and service.
Danial and Pohl attended several sessions at the conference and brought back new ideas for VOICES. The leaders plan to incorporate a Sept. 11 service project into the fall calendar, to go green by reducing and eliminating as much paper as possible, to reduce the negative impact of projects on the environment by reducing the use of plastic water bottles and trash generated at programs, and to implement new strategies for recruiting and retaining members.
>> For more information, visit the VOICES Web site or go to the group's office at University Center Room 1.216 on the Main Campus.
>> Learn more about United We Serve and view a video message by Michelle Obama.