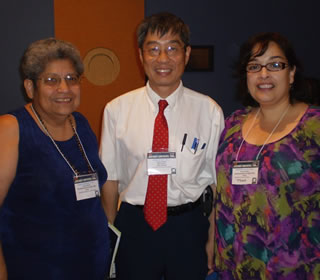 Top photo: Top photo: From left are Elma Gonzales (SACNAS),
UTSA Professor Andrew Tsin and Tina Garza (SACNAS)
Bottom photo: UTSA chemistry Ph.D. student Jonathan Caranto
Science research conference draws nearly 300 from across region
By Amanda Beck
Communications Specialist, College of Sciences
(Aug. 24, 2009)--Nearly 300 participants gathered Aug. 7 at the UTSA Main Campus to celebrate scientific research in the South Texas region. The daylong College of Sciences Research Conference brought together undergraduate and graduate students and faculty from UTSA and surrounding universities to reconnect and foster new relationships.
"This conference was hugely successful for the college and exposes the great research conducted at UTSA to the surrounding scientific community," said Andrew Tsin, UTSA professor and College of Sciences associate dean for research.
Participants learned about the programs at the university through poster and oral presentations, and tours of the laboratories and facilities. More than 100 posters displayed in the University Center ballroom represented the college's six departments.
Karl Klose, director of the South Texas Center for Emerging Infectious Diseases, delivered the keynote address on effects of the Vibrio cholera bacterium.
More than a dozen educational institutions from across Texas were represented at the conference, along with members of the Alamo Chapter of Sigma Xi and the Society for the Advancement of Chicanos and Native Americans in Science (SACNAS).
Six undergraduate students received awards for their poster presentations: Jessica Briscoe (biological sciences), Micah Spears (computer science/mathematics), Obehi Etinfoh and David Babinski (physical/chemical/material sciences), and Nicole Franco and Sean Vargas for the best SACNAS poster. In addition to plaques, each winner received a year's membership to Sigma Xi.
"I think we met the goal of sharing the great work our students and faculty are doing here at UTSA. What we have to do now is carry the momentum from this conference through the entire academic year," said George Perry, dean of the College of Sciences.
With the success of the event, college and university organizers plan to host an expanded event in August 2010. For more information, visit the College of Sciences Research Conference Web site.
-------------------------------
Sigma Xi
Sigma Xi is an international, multidisciplinary research society with programs and activities promoting the health of the scientific enterprise and honoring scientific achievement. There are nearly 60,000 Sigma Xi members in more than 100 countries. Sigma Xi chapters, more than 500 in all, can be found at colleges and universities, industrial research centers and government laboratories. The organization encourages support of original work across the spectrum of science and technology and promotes appreciation within society at large for the role research has played in human progress. For more information, visit the Alamo Chapter Web site.
Society for the Advancement of Chicanos and Native Americans in Science
SACNAS is a national society with a 36-year history of supporting minority scientists and science students. The society is comprised of more than 20,000 members, partners and affiliates from many disciplines, institutions, ethnic backgrounds and levels along the educational trajectory. SACNAS members are dedicated to giving back through mentorship, peer networks and professional development and to engaging in science research and leadership of the highest caliber. The organization and its members are committed to encouraging minority students and scientists to advance to their utmost capability. For more information, visit the SACNAS Web site.