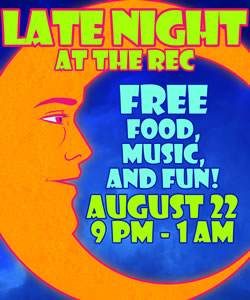 Come to UTSA's Late Night at the Rec for info, fun and activities
By Amy Dalrymple
Assistant Director of Marketing and Communications, Campus Recreation
(Aug. 19, 2009)--The UTSA Department of Campus Recreation will host the sixth annual "Late Night at the Rec" event from 9 p.m. to 1 a.m., Saturday, Aug. 22 at the Recreation Center on the Main Campus. A UTSA tradition, the evening of music, food, games and prizes is open to UTSA students, faculty and staff.
In addition to fun activities, participants will learn about programs and services relating to health, recreation and wellness. Additionally, there will be free t-shirts while the supply lasts.
The evening activities will include group-exercise demonstrations, sand volleyball, table tennis, basketball, racquetball, fitness competitions, club sport demonstrations, laser tag, an inflatable obstacle course, a limbo contest and a spelling bee.
The impressive UTSA Recreation Center is home to the tallest collegiate climbing wall in Texas, measuring 54 feet. The indoor one-sixth mile jogging track provides a comfortable environment for walkers and jogger alike. The weight room and outdoor Aquatics Center offer additional fitness opportunities.
For more information, call (210) 458-6728.