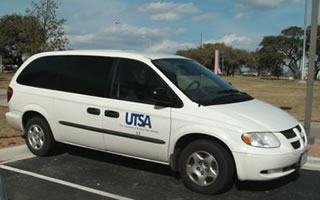 University Heights-Main Campus shuttle service ends because of low use
By Jane Wilcox
Director of Business Auxiliary Services
(Aug. 12, 2009)--The Transportation Services division of UTSA Business Auxiliary Services pilot program providing shuttle service between University Heights and the UTSA Main Campus ends Wednesday, Aug. 12. The pilot program allowed collection of information about the need for shuttle service between the two locations.
The trial period began March 3 and was expanded to two full days per week on June 16. Ridership consistently averaged less than one passenger per operating hour.
Because of low use, permanent shuttle service to University Heights most likely will not be provided. The last day of service will be Wednesday, Aug. 12.
For more information, call Parking and Transportation Services at (210) 458-PARK (7275).