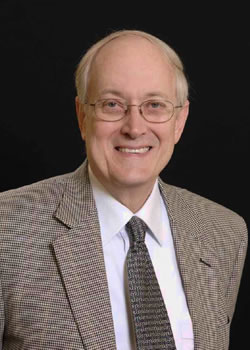 David R. Johnson
(Photo by Mark McClendon)
Vice Provost David R. Johnson leaves administrative service to return to teaching, research and writing
By Lorna Stafford
Development Communications Coordinator
(Sept. 9, 2009) -- David R. Johnson has spent many years helping UTSA make the transition from a young commuter college to a mature university. Now, the vice provost for academic and faculty support and 12-year veteran in administration is returning to his first passion -- teaching, research and writing.
Johnson joined the College of Liberal and Fine Arts on Sept. 1 and will teach history courses, although the course and office space are still to be determined. His illustrious career proves that when a job needs to be done, he is the man to turn to. From teaching to heading committees to leading a department, Johnson has done it all throughout his 34 years at UTSA.
"My first job was at the University of New Orleans. Then I got the offer to come to San Antonio in 1975, and that was fun," said Johnson. "The HSS (Humanities and Social Sciences Building) was the only building on campus. Everything else was under construction, and rattlesnakes were still debating with the deer about whether they were going to move or not."
In 1975, a little more than 4,000 students attended UTSA. The campus officially had five colleges -- Business, Fine and Applied Arts, Sciences and Mathematics, Multidisciplinary Studies, and Humanities and Social Sciences, which housed Johnson's classes.
"There were many divisions in the same administrative structure. It was truly interdisciplinary. It was fun to talk to people across disciplines. I had them right there outside my door," he said.
Johnson was assistant professor from 1975 to 1979; associate professor from 1979 to 1985; and full professor thereafter.
His journey into administration took place when he became the undergraduate adviser of record in 1976 and was the graduate adviser of record several times after that. Before 1997, he chaired many university committees, one of which was instrumental in establishing leave time for faculty development -- a first at that time for UTSA.
Early in his role as associate vice president for faculty affairs, he worked to create a career ladder and new title for non-tenure-track faculty.
"That was really a big change," he said. "Up until that time, we called these colleagues TAs (teaching assistants). They didn't like that because that made it sound like they were graduate students. It was really an odd title. It took a lot of work, but I put together a proposal that created what we now call lecturers."
In 2000, Johnson was named executive vice provost; in 2004, executive vice provost for academic affairs; and in 2005, interim dean of the libraries, a position he held while serving also as vice provost for academic and faculty support beginning in 2006.
"I launched an initiative to enhance the library's physical appearance. Students were complaining to me about how awful the library had become. There was poor lighting and chairs were falling apart."
His term as interim dean introduced new lighting, color schemes and furniture to the library. Student services were expanded and improved and library space grew considerably as administrative offices housed on the facility's top floor began to find new homes.
"(The space) was supposed to be turned over to the library 25 years ago, but never was," Johnson said. "But, because (UTSA) was putting up more buildings, we managed to convince upper administration that we needed to get as much of the building as possible devoted to the library. We're finally in that. That was a huge shift."
The quiet-spoken historian with a quick wit and turn of phrase said he will miss being a member of the administrative ranks.
"I will miss working with my colleagues in administration. One of the attractive things about administration is that you have opportunities to really help the institution develop in ways that are really, really important. I will miss that."
But the history of San Antonio is calling and the classroom is waiting.
"I've got a fair amount of time left, I think," said Johnson. "I want to focus on writing my book on San Antonio, do more teaching and hopefully continue to make some difference in just a different kind of environment."
----------------------------
In other news from the Office of the Provost and Vice President for Academic Affairs, Dorothy Flannagan was named vice provost and dean of graduate studies and Nancy Martin was named associate vice provost for the Quality Enhancement Plan (QEP) and core curriculum.