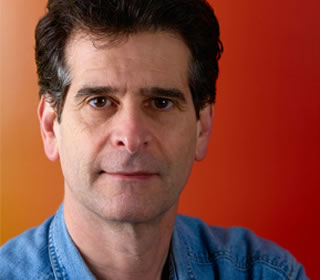 Dean Kamen
UTSA President's Distinguished Lecture Series features Segway inventor
By Marianne McBride Lewis
Director of Public Affairs
(Sept. 10, 2009)--UTSA President Ricardo Romo announced today that Dean Kamen, a member of the National Inventors Hall of Fame and the inventor of the Segway Personal Transporter, will address the UTSA community as the UTSA President's Distinguished Lecture Series 2009 featured speaker. Free and open to the public, the lecture is 4 p.m., Thursday, Sept. 17 in the University Center Retama Auditorium (2.02.02) on the UTSA Main Campus. A reception with light refreshments will follow the talk.
Kamen founded New Hampshire-based DEKA Research and Development and holds more than 440 U.S. and foreign patents -- many for innovative medical devices that have advanced medical care worldwide. Besides the Segway, Kamen invented the first wearable insulin pump for diabetics and the iBOT mobility system -- a wheelchair than can climb stairs.
Kamen's connection to UTSA came through College of Engineering Dean Mauli Agrawal, who serves on the BioMed SA board of directors. In addition to the UTSA lecture, Kamen will be in town to receive the BioMed SA 2009 Julio Palmaz Award for Innovation in Healthcare and the Biosciences.
"The opportunity to have an inventor and entrepreneur of Dean Kamen's caliber meet with our students and deliver our distinguished lecture is fantastic," said Romo. "Not only does Mr. Kamen exemplify discovery and innovation, values we hold dear here at UTSA, but he also works fervently to inspire future generations to pursue careers in science and technology. We are absolutely thrilled to host him."
In addition to his research and development projects, Kamen is the founder of For Inspiration and Recognition of Science and Technology (FIRST), a 501(c)(3) organization dedicated to inspiring young people to become leaders in science and technology. Through activities such as robotics and engineering competitions, FIRST fosters life capabilities including self-confidence, leadership and communication.
The UTSA President's Distinguished Lecture Series features internationally recognized scholars engaged in traditional research and activities, as well as those whose contributions are in the creative fields of architecture, fine arts and music. The series began in April 2008, featuring "Gene Targeting in the 21st Century: Mouse Models of Human Disease from Cancer to Psychiatric Disorders," a presentation by Mario R. Capecchi, Ph.D., recipient of the 2007 Nobel Prize in Physiology or Medicine.
Kamen was awarded the National Medal of Technology and Innovation in 2000 by President Bill Clinton, the Lemelson-MIT Prize in 2002, and was inducted into the National Inventors Hall of Fame in May 2005. Read a biography of Kamen (PDF format).