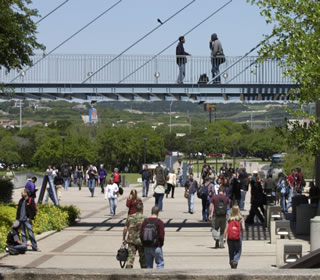 UTSA Main Campus
UTSA sets enrollment record, doctoral enrollment grows nearly 20 percent
By Omar Hernandez
Public Affairs Specialist
(Sept. 21, 2009)--The University of Texas at San Antonio can add record-breaking enrollment to the list of achievements in 2009. Based on preliminary enrollment data from recent census figures, UTSA now has 29,133 students with a nearly 20-percent increase in doctoral students. The figures have been forwarded to the Texas Higher Education Coordinating Board for review.
The total enrollment increase of 2.5 percent from last fall includes an undergraduate count of 25,135 students from 51 U.S. states and territories and more than 80 countries.
Consistent with UTSA's goal to increase the proportion of graduate students, census data shows total graduate student enrollment for fall 2009 increased by 7.5 percent.
Master's program enrollment jumped to 3,200 students from 3,021, and 85 students were added to doctoral programs for an increase of 19.6 percent. A total of 3,755 graduate students, including 555 doctoral candidates, currently attend UTSA.
"We are excited to see the development and growth of the master's and doctoral programs," said UTSA President Ricardo Romo. "This growth at the graduate level contributes to UTSA's strategic goal of becoming a premier public research university and demonstrates that UTSA continues to be an institution of first choice."
According to The Hispanic Outlook in Higher Education Magazine's 2008 rankings, UTSA nationally ranks fourth in the number of undergraduate degrees and 12th in the number of master's degrees awarded to Hispanic students. Additionally, UTSA's College of Business graduate school was named No. 1 in the nation for Hispanic students by Hispanic Business magazine.
To accommodate increasing enrollments and achieve its vision to become a premier research university, UTSA has implemented plans for more than $265 million in additional construction over the next few years.
The recent completion this fall of the 145,400-square-foot Applied Engineering and Technology (AET) classroom and laboratory building marks the newest addition on Main Campus. The AET Building will host biotech science, biomedical, electrical, civil and environmental engineering classes as well as physics and astronomy. The total project cost is $82.5 million.
UTSA is one of the fastest growing higher education institutions in Texas and the second largest of nine academic universities and six health institutions in the UT System. As a multicultural institution of access and excellence, UTSA aims to be a premier public research university providing access to educational excellence and preparing citizen leaders for the global environment.
--------------------------------
UTSA Enrollment Statistics, Fall 2009
Total: 29,133
Undergraduate: 25,135
Master's: 3,200
Doctoral: 555
Other: 243
Enrollment by Gender
Females: 14,841
Males: 14,292
Minority Enrollment
17,010
(includes Black Non-Hispanic, Hispanic, Asian Pacific Islander, American Indian or Alaskan Native students)
Enrollment by College
College of Architecture: 1,127
College of Business: 5,538
College of Education and Human Development: 4,748
College of Engineering: 2,345
College of Liberal and Fine Arts: 6,663
College of Public Policy: 1,206
College of Sciences: 5,051
Undeclared: 2,455
Downtown Campus
Total enrollment at Downtown Campus: 6,469
Students attending Downtown and Main campuses: 3,862
Students attending Downtown Campus only: 2,607