UTSA Brackenridge lecture series hosts international linguist David Crystal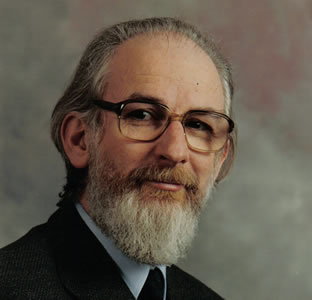 Share this Story
By Kris Rodriguez
Public Affairs Specialist
(Oct. 28, 2009)--The UTSA Department of English and College of Liberal and Fine Arts will present internationally renowned linguist David Crystal for three lectures as part of the Brackenridge Distinguished Visiting Lecture Series and the COLFA Lecture Series Oct. 28-30 at the UTSA Main Campus. The lectures are free and open to the public.
Crystal's lecture, "Pronouncing Shakespeare," is 7 p.m., Wednesday, Oct. 28 in the John Peace Library Building Assembly Room (4.03.12) on the Main Campus. He will present a fresh reading of some early Modern English texts and offer new insights on rhymes and puns. Shakespeare's sonnets also will figure heavily in the presentation in this 400th anniversary year of their first publication.
At 7 p.m., Thursday, Oct. 29 in the University Center Ballroom (1.104) on the Main Campus, Crystal will speak on "Language Death: Writing the Obituary of Languages." He will review how languages are dying and offer suggestions for what can be done to stop it. Additionally, he will present arguments for why people should be concerned, drawing a parallel with other ecological domains.
The final lecture of the series, "In Search of English: By Hook or By Crook," is 1 p.m., Friday, Oct. 30 in the Business Building University Room (2.06.04), Main Campus. He will discuss accents and dialects, place names and etymologies, and describe some of the people and places he has encountered. From Lady Godiva to Bricklehampton, the presentation will reflect on the English language and its continually changing and elusive character.
Author of more than 100 books, Crystal is one of the world's foremost authorities on language and linguistics. His writings include the second editions of the Cambridge Encyclopedia of Language, Cambridge Encyclopedia of the English Language and "English as a Global Language." He has written extensively on the language of Shakespeare including "Think on My Words: Exploring Shakespeare's Language," "Pronouncing Shakespeare" and "Shakespeare's Words." He wrote "Language and the Internet" and "Txtng: the Gr8 Db8," and also has written on topics such as intonation and stylistics and the application of linguistics to religious, educational and clinical contexts.
An acclaimed writer, journal editor, lecturer and broadcaster, Crystal received the Order of the British Empire Award in 1995 for his service to the study and teaching of the English language. He received a doctoral degree in English from the University of London and a bachelor's degree in English from University College London. Crystal was a department chairman at the University of Reading for 10 years, and now is an honorary professor of linguistics at the University of Wales, Bangor.
------------------------------
The Brackenridge Distinguished Visiting Lecture Series and the College of Liberal and Fine Arts Lecture Series are sponsored by the Department of English, Department of Modern Languages and Literatures, Department of Bicultural-Bilingual Studies, Honors College, Friends of Shakespeare and the Crittenden Endowment Fund.
The Brackenridge Distinguished Visiting Lecture Series is supported by the George W. Brackenridge Foundation.
University Communications
Contact Us