UTSA student organizations serve during United Way Days of Caring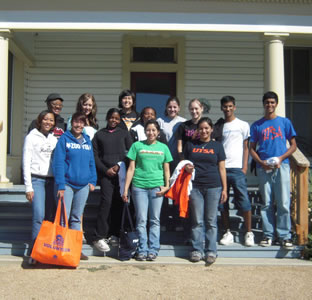 Share this Story
(Oct. 30, 2009)--Every October, United Way hosts Days of Caring, a three-day service event that brings out thousands of volunteers from companies and universities for a day of service at dozens of projects across the San Antonio community. Two UTSA student organizations participated this year.
The student group UMOJA and members of Delta Sigma Theta brought more than 20 volunteers to the Communities In Schools ropes course to make improvements to the site. The group trimmed trees, cleared brush and did some gardening work at the site to help make it accessible to the students visiting the course. This is the second time UMOJA has volunteered with the CIS ropes course, one of many service projects with which the group participates each year.
Fifteen members of UTSA's VOICES (Volunteer Organization Involving Community Education and Service) volunteered at the Mitchell Lake Audubon Center as part of Days of Caring. On San Antonio's South Side, the center is a designated wildlife refuge and a natural migratory bird route.
For the VOICES project, the students were divided into two groups to help the staff lay new mulch onto a walking trail. One group was responsible for transporting the mulch to the designated section, while the other group helped lay down the mulch and spread it throughout the trail. The volunteers finished what had been an incomplete section of the trail.
To find out how you can get involved, visit the UTSA Volunteer Services Web site or stop by the VOICES/Volunteer Services office in University Center Room 1.216 on the Main Campus.
Learn more at the VOICES Web site or e-mail UMOJA or find UMOJA on Facebook.