UTSA students learn etiquette for the work world at dining event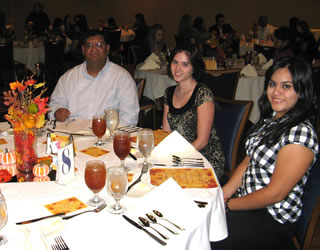 Share this Story
(Oct. 30, 2009)--The UTSA Honors Alliance hosted the eighth annual Citizenry and Etiquette Dinner on Oct. 14 in the University Center Ballroom (1.106) at the Main Campus. More than 70 students attended the event to hone their dining skills in order to be more comfortable at social engagements and to help prepare them for formal events they may encounter in the work world.
Honors Alliance Scholarly programming chair Tanya Tijerina was responsible for coordinating the evening's speaker, Margaret Houston from The Protocol School of Texas, as well as the deliciously challenging five-course meal. Each student at the dinner received a certificate of participation.
Some of the topics discussed by Houston were etiquette in dining, how and why one should send thank-you notes, and how to socialize in settings such as parties, receptions and with international clientele.
For more information, contact the UTSA Honors Alliance at (210) 458-7273.