UTSA professor will discuss systems engineering in live international videoconference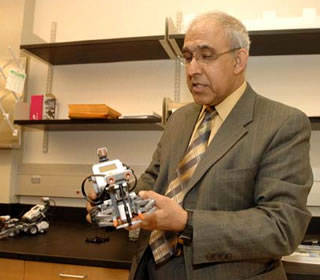 Share this Story
(Oct. 19, 2009)--Mo Jamshidi, UTSA Lutcher Brown Endowed Chair of Electrical Engineering, will deliver a two-hour lecture on system of systems engineering from 9 to 11 a.m., Tuesday, Oct. 20 by live video conference to researchers in Buenos Aires, Argentina and Madrid, Spain.
UTSA students, faculty, staff and alumni are invited to attend the lecture in Biotechnology, Sciences and Engineering Building Room 2.102 on the UTSA Main Campus. Audiences at Universidad Nacional de Salta in Argentina and Universidad PolitÚcnica de Madrid in Spain will view the lecture.
System of systems engineering combines simple systems to form larger systems that are capable of completing more complex tasks than the smaller components. The discipline has applications in the defense, energy, environmental and health-care industries.
During the international discussion, Jamshidi will discuss:
an introduction to system of systems (SoSE) engineering, "From Definition to Implementation"
an overview of how multi-robotic systems work in air, on land and in the water
insight into the development of UTSA's first hybrid green energy system, which uses solar and wind power
an introduction to cloud computing and its intersection with system of systems engineering
video clips of system of systems research activities taking place in the UTSA Autonomous Control Engineering (ACE) Laboratory (with Spanish subtitles)
Jamshidi will follow the videoconference with a visit to Argentina in early 2010, where he will be joined by system of systems engineers from Spain.
With a career spanning more than four decades, Jamshidi is known internationally as a leader in system of systems engineering. He conducted research for the U.S. Air Force, U.S. Department of Energy, NASA, Oak Ridge National Laboratory, Los Alamos National Laboratory and Sandia National Laboratories. He worked on the first generation of adaptive optics for the Hubble telescope, the engineering of nuclear breeder reactors, the Mars Pathfinder project and the applications of robotics for energy efficiency. His current research, conducted in UTSA's ACE Laboratory, focuses on the applications of system of systems engineering to land, sea and air robots, and solar-wind energy systems.