UTSA newsletters
UTSA magazines
UTSA student leadership summit helps students connect and collaborate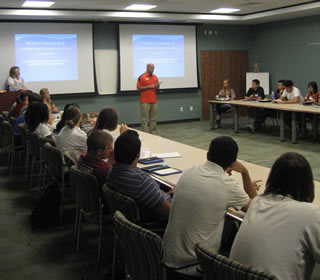 Share this Story
(Oct. 16, 2009)--The UTSA Office of Student Activities recently hosted the fifth annual UTSA Leader Summit. Free and open to all UTSA students, the one-day conference focuses on information to help student organizations. Approximately 150 students participated in the conference, which had the theme, "Communicating, Collaborating, Connecting and Creating. Be UTSA!"
Conference presenters included UTSA administrators Gage Paine, vice president for student affairs; Kevin Price, associate vice president for student life; Patricia Graham, executive director of special events; Elizabeth Stanczak, executive director of health and counseling services; and Barry McKinney, director of student activities.
The keynote speaker was nationally recognized expert Gabe Salazar, who delivered a powerful message on how to turn dreams into reality. Salazar also led students in a breakout session titled "Collaborate, Communicate, Connect and Create."
According to conference participant Ana Navarro, "Leader Summit was a great opportunity to expand my leadership skills by introducing me to new techniques and concepts like personal and professional relationships that will definitely help me throughout my life. My favorite and most inspirational parts of Leader Summit were the presentations by Gabe Salazar."
The summit provides current student leaders and emerging student leaders with opportunities to develop leadership skills and learn about risk management, programming, positive psychology, team building and communication. The conference is conducted each September; students can register for the event at the UTSA Student Activities.