International classical guitarist to perform in San Antonio Nov. 3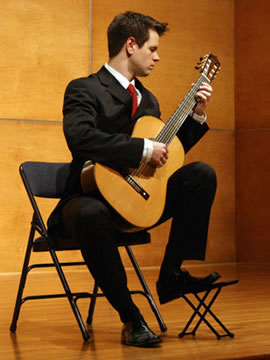 Share this Story
(Oct. 30, 2009)--2009 Southwest Guitar Festival and International Competition winner Nemanja Ostojic returns to San Antonio for a concert performance at 7:30 p.m., Tuesday, Nov. 3 in the Ruth Taylor Recital Hall at Trinity University.
Ostojic, a 24-year-old Serbian native, captured the $5,000 first-place prize at the festival when he defeated 34 of the world's top student guitarists representing 15 countries at the international competition in San Antonio last February.
Considered to be one of the finest young classical guitarists of his generation, Ostojic has captured first-place prizes at classical guitar competitions in Greece, Romania, Germany, Italy, France and the United States. He graduated from the Belgrade Academy of Music and is pursuing an advanced degree at the Jacobs School of Music at Indiana University.
The Southwest Guitar Festival and International Competition was organized by UTSA Assistant Professor Matthew Dunne, in conjunction with the UTSA Department of Music, ARTS San Antonio, San Antonio Chamber Music Society and the San Antonio Symphony. Support was provided by the City of San Antonio Office of Cultural Affairs, Shiner Beers, the Augustine Foundation and the UTSA Office of the President.
Tickets for the Nov. 3 concert are $19 and can be purchased by calling ARTS San Antonio at (210) 226-2891.