Student leader Steven Garza featured in My Latino Voice's Hot Latino 25 Under 25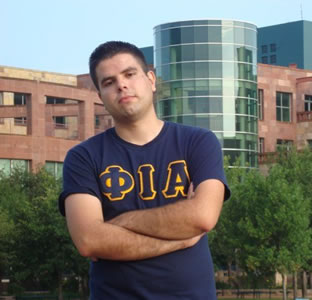 Share this Story
(Oct. 26, 2009)--Student leader Steven Garza recently was featured in the online publication My Latino Voice in its Hot Latino 25 Under 25. A UTSA senior biology major, he was nominated by his brothers in the Phi lota Alpha fraternity. His fraternity brothers obviously knew that Garza's involvement efforts were exactly what the publication was looking for.
Along with being a member of Phi Iota Alpha, Garza works with various organizations including the American Red Cross Campus Club, Hispanic Student Association, Multicultural Greek Council and the UTSA Diversity Month Planning Committee. Recently, he took a lead role in organizing and serving as student chair of the Latino Heritage Month Planning Committee.
"When I first came to UTSA I had the mindset of just come to school and leave, and I didn't think I would be as involved as I am," said Garza. "But, seeing the great things that Greek life has to offer, I just got wrapped up in wanting to do good."
After finishing his undergraduate degree, Garza hopes to continue on to medical school. He says that although the path to a better life is not easy, it is always worth it.
Among the other notable honorees for the Hot Latino 25 (Under 25) are America Ferrera from the TV show "Ugly Betty;" Stephanie Lopez Cox, U.S. Olympic soccer player; and Mark Sanchez, quarterback for the New York Jets.
>> For the complete list of the honorees, visit the My Latino Voice Web site.
For more information, visit the UTSA Inclusion and Community Engagement Center Web site.