UTSA BestFest 2009 raises funds for student organizations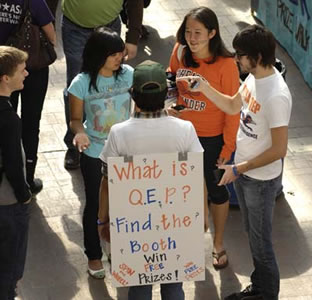 Share this Story
(Nov. 3, 2009)--On Friday, Oct. 30, the UTSA Campus Activities Board hosted the annual festival, BestFest, at Sombrilla Plaza on the Main Campus, and the turnout was quite impressive.
More than 60 organizations participated this year and collectively they pulled in more than $5,600. The event is one of the largest fundraisers for UTSA student organizations. Each participating organization provided a booth with games or food and drink items.
One of the more popular booths was the Quality Enhancement Plan (QEP) information booth hosted by the Public Relations Student Society of America (PRSSA) with a steady line prompted by free UTSA t-shirts. The QEP is an important component for UTSA's reaccreditation by the Southern Association of Colleges and Universities.
Students crowded the booth for a chance to win prizes and show their knowledge of the QEP tagline, "Decide with Confidence," which was part of the QEP trivia contest.
Other popular booths included the Indian Cultural Association, who won the "Most Green Booth" award. The Orientation Leaders took first place in the booth-decorating contest, Alpha Phi Omega and Hispanic Scholarship Fund tied for second place and the Catholic Student Association finished third.
>> View a photo gallery of BestFest 2009 on the UTSA Today main page.