Pedestrian safety enhanced at Downtown Campus Frio Street crosswalk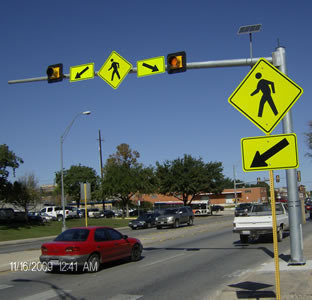 Share this Story
(Nov. 23, 2009)--Recently installed overhead flashing beacons at the Frio Street mid-block crosswalk will enhance pedestrian safety at the UTSA Downtown Campus.
The solar-powered beacons are a result of a university-funded partnership with the City of San Antonio and will complement the improved signage and pavement painting to alert motorists.
To help ensure safety, pedestrians are reminded to observe these safety recommendations at crosswalks:
Be alert for vehicles that may not stop for you.
Make eye contact with drivers if possible, to be sure they see you.
Never assume drivers will yield to pedestrians when crossing an intersection or a mid-block crosswalk.
Do not take phone calls or text messages as you prepare to cross the street. Focus your attention on the street.
Put away newspapers or books. Look both ways before crossing the street.
Turn off personal audio devices. Listen for approaching traffic and emergency vehicles.
Never cross a street where there is no crosswalk. A pedestrian jeopardizes his or her safety when crossing outside of a crosswalk zone.
Yield to drivers at intersections where the pedestrian does not have a "walk" signal and where vehicles have a green signal.
Take care not to suddenly move into the path of an approaching vehicle that may not have sufficient time to yield.
Walk on sidewalks where they are provided and accessible.