Janey S. Briscoe Endowed Chair in the Business of Health: Dana Forgione is seasoned educator, researcher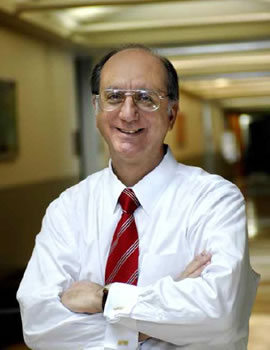 Share this Story
(Nov. 13, 2009)--Professor Dana Forgione, who holds the Janey S. Briscoe Endowed Chair in the Business of Health, is a seasoned educator and researcher who brings a global perspective to issues in health-care administration and financial accounting. He joined the Department of Accounting in the College of Business in 2006.
Health care is at the epicenter of policy debate in the United States, and Forgione is helping to prepare students to enter the financial and management side of this critical field.
"Every country, regardless of their social or economic system, has the same problem in health care," he said. "We have unlimited and escalating demand as our population ages and limited and shrinking resources as the ratio of workers to resources keeps dropping."
Since coming to UTSA, Forgione has developed and strengthened the M.B.A. program's concentration in the business of health. This four-course specialization area prepares students to enter or advance within health-care organizations. In addition to leading this program, Forgione teaches a seminar in Medicare regulation, a class he describes as "a very hands-on, applied" course. This College of Business program is the only business program in the UT System focused on the business of health.
The Janey S. Briscoe endowed chair funds provide the means for Forgione to attend and present at conferences around the world on health-care management and accounting, while also supporting his research, publication and teaching efforts.
Former Gov. Dolph Briscoe and his family established the endowed chair in memory of his wife, Janey Slaughter Briscoe, who died in 2000. Janey Briscoe served on the University of Texas System Board of Regents from 1981 to 1987. A strong supporter of health-care initiatives in Texas, Dolph Briscoe also established the Janey Briscoe Center of Excellence in Cardiovascular Research at the UT Health Science Center at San Antonio (UTHSCSA).
"The endowment has been tremendous," Forgione said. "It's enabled me to have an assistant and to put out this journal, Research in Health Care Financial Management." Forgione noted that the latest issue of the journal he founded 15 years ago is the last issue and that he will be "out of the editor business" for a while.
Forgione teaches a doctoral research seminar on governmental and nonprofit research and an elective course on accounting for health-care organizations. He works with both the UTHSCSA and the University of Texas School of Public Health (San Antonio Regional Campus) to develop several new dual degree programs including M.P.H.-M.B.A. and M.D.-M.B.A. degrees.
"We're very excited about this," said Forgione, whose classes tend to draw health-care professionals as well as traditional students. "I've had a pediatrician, a hospital CFO, an HMO-contract analyst, business people with interest in moving into health care, and clinical people with interest in learning business management -- just a wide spectrum of outstanding students."